AEON Family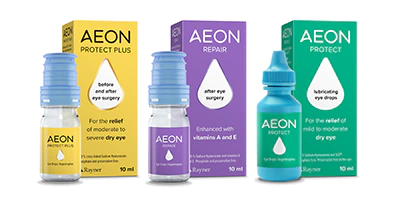 Your complete eye drop family, designed for before and after eye surgery.
Recently published research suggests that dry eye may be a hidden obstacle to some patients' satisfaction with their cataract surgery. That's why we created AEON, a new eye drop family which aims to help patients manage their condition and improve their post-surgical outcomes.
At Rayner, we understand the challenges that your patients can experience – AEON products were created specifically to help with ocular surface disease, before and after surgery.
As you'd expect, all AEON products are preservative and phosphate free.*