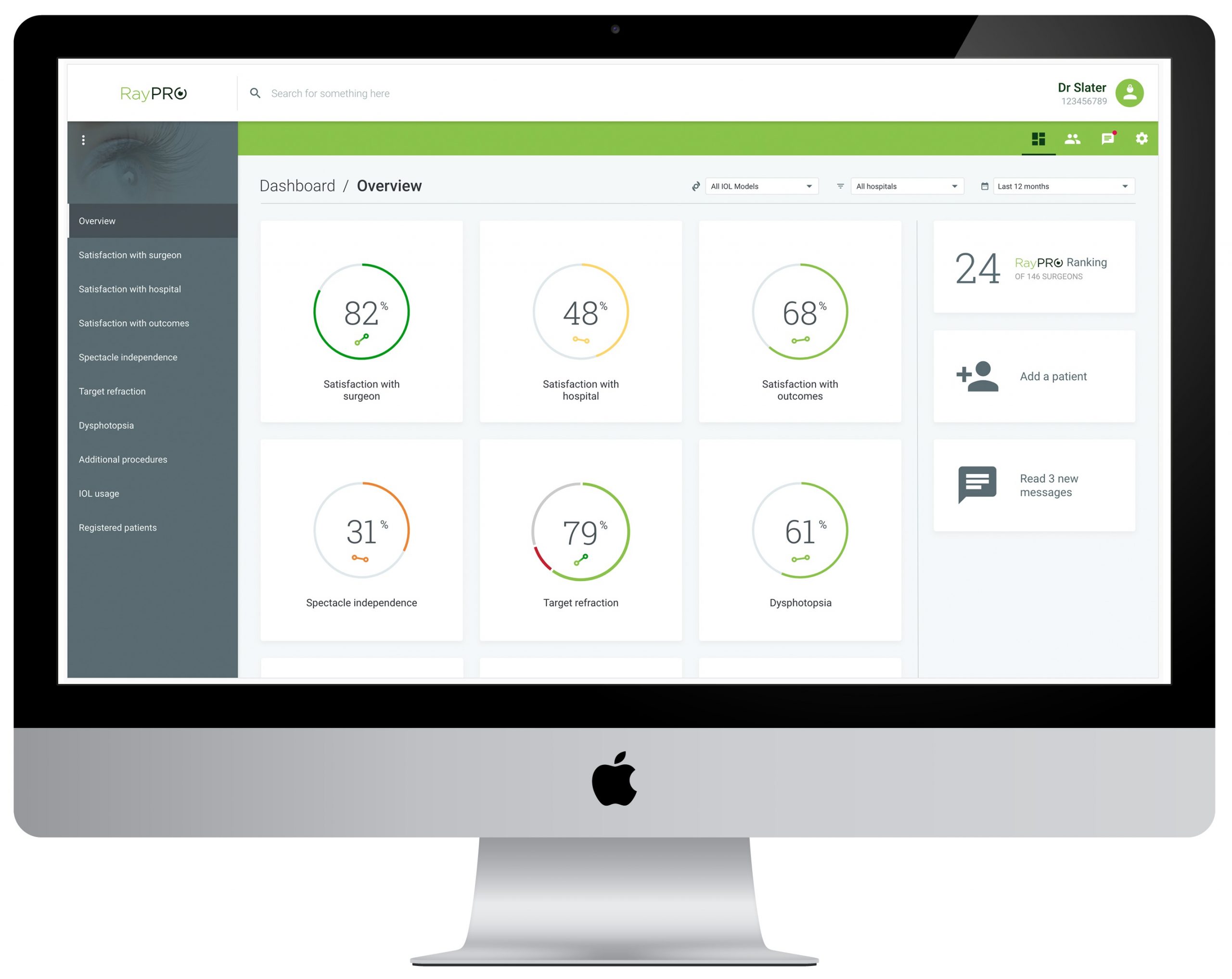 Rayner announces 1,000 IOLs recorded on RayPRO digital platform
Posted on 4/08/2021
AUGUST 04, 2021 – Worthing, United Kingdom. Rayner, the pioneering manufacturer of intraocular lenses for cataract and refractive surgery, announced today that it has achieved the milestone figure of 1,000 intraocular lenses recorded on RayPRO, its digital patient reported outcomes platform.
Launched at ASCRS in 2019 for ophthalmic surgeons who perform cataract procedures, RayPRO is a web-based and mobile digital platform that proactively collects an insightful blend of Patient Reported Outcomes (PROs).
Once registered on RayPRO, patients receive five short emailed questionnaires over three years that collect feedback on their satisfaction, functional vision and follow-up eye procedures. The data is then presented to surgeons in real-time via the intuitive RayPRO dashboard, that can be accessed anywhere at any time.
Mark Vizard, Rayner's Digital Health Manager stated:
"The amount of data being added to RayPRO demonstrates the value and level of insights our customers derive from the platform. As an example, two hundred records for all our RayOne Trifocal lenses have so far been collected and, at a glance, we can see that patients report 97% spectacle independence – with 98% achieved at distance, 96% intermediate and 94% near. Until now, combining this level of granular insight with a high quantity of patients that is also instantaneously filterable by country was simply not possible. RayPRO continues to go from strength to strength, and we look forward to making data-driven decisions based on feedback from tens of thousands of patients over the coming years."
Designed for GDPR and HIPAA compliance, Rayner is only able to see metrics at a global or country level and has no access to patient identifiable data.
RayPRO is free for users of Rayner IOLs.
To learn more about RayPRO, visit www.staging.rayner.com/RayPRO
END
About Rayner
Since the implantation of the first Rayner intraocular lens by Sir Harold Ridley 1949, Rayner has continuously pioneered intraocular lens (IOL) design with a goal to improve vision and restore sight worldwide. Today, Rayner's mission remains to deliver innovative and clinically superior ophthalmic products that respond to the expectations of our global customers to improve the sight and quality of life of their patients.
Headquartered in Worthing, United Kingdom, Rayner markets its IOL, OVD and dry eye portfolio, worldwide in over 80 countries through a network of distributors and includes direct sales teams in the United Kingdom, USA, Germany & Austria, Italy, Spain and Portugal.
Share this article