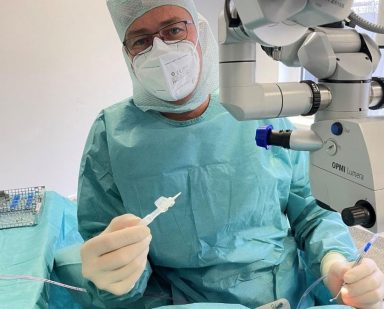 Rayner expands RayOne portfolio with first blue light filtering IOL
Posted on 5/01/2022
JANUARY 05, 2022 – Worthing, United Kingdom. Rayner, the only UK manufacturer of intraocular lenses (IOLs), today announced the launch of RayOne Hydrophobic BLF. Made of its proprietary ultra glistening-free hydrophobic material, RayOne Hydrophobic BLF is Rayner's first blue light filtering IOL.
RayOne Hydrophobic BLF expands Rayner's RayOne lens portfolio from seven to eight variants, now with an option for surgeons who wish to offer patients a blue light filtering IOL that could help to protect the retina from potentially harmful blue light and may be useful in reducing the risk of Age-related Macular Degeneration (AMD) in pseudophakic eyes.
Rayner CEO, Tim Clover, said of the launch: "Over a third of all lenses implanted have blue light filtering properties so we are thrilled to supplement our RayOne Hydrophobic solution with the new BLF variant, and offer surgeons the choice between clear and yellow IOL options."
Packaged in Rayner's award-winning fully preloaded injector system, RayOne Hydrophobic BLF benefits from the same aspheric aberration-neutral optic design and patented Cornerstone tabs as the clear variant, which combine with anti-vaulting haptic technology to create superb stability once inside the capsular bag. Rayner's hydrophobic material is not dependent on the temperature within the operating theatre, so it arrives ready-to-use with no warming or waiting needed for an efficient surgical procedure.
Unlike some blue light filtering IOLs, RayOne Hydrophobic BLF does not block all blue light, a small amount is still transmitted through the lens to stimulate the natural circadian rhythm for a healthy sleep-wake cycle.
Dr. Till C. Werner, ophthalmic surgeon at Dr. Werner & Kollegen in Germany, implanted the world's first RayOne Hydrophobic BLF on 2nd November 2021 as part of the pre-launch evaluation, and commented: "I was honoured to implant the very first RayOne Hydrophobic BLF blue light filter IOL from Rayner. The hydrophobic lens ejected predictably from the preloaded injector and unfolded very smoothly inside the eye."
RayOne Hydrophobic BLF is now commercially available from 0.0 D to +32.0 D in CE certificate-accepting countries.
To learn more, speak to your Rayner representative today or visit www.staging.rayner.com/BLF 
END
About Rayner
Since the implantation of the first Rayner intraocular lens by Sir Harold Ridley 1949, Rayner has continuously pioneered intraocular lens (IOL) design with a goal to improve vision and restore sight worldwide. Today, Rayner's mission remains to deliver innovative and clinically superior ophthalmic products that respond to the expectations of our global customers to improve the sight and quality of life of their patients.  
Headquartered in Worthing, United Kingdom, Rayner markets its IOL, OVD, dry eye and digital health portfolio worldwide in over 80 countries through a network of distributors, with direct sales teams in the United Kingdom, USA, Germany, Austria, Switzerland, Italy, India, Spain and Portugal.  
To support Rayner's international growth, CVC Capital Partners VIII acquired a majority interest in the company in June 2021. Established in 1981 and with international reach and experience of the healthcare sector, CVC is a world leader in private equity and credit with $125 billion of assets under management and $165 billion of funds committed. 
For further information and media enquiries, please contact Rayner: marketingteam@rayner.com 
EC 2021-85 01/22
Share this article