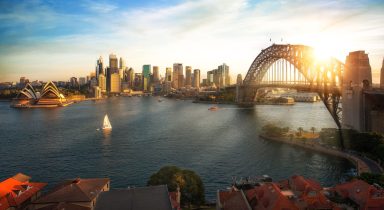 Rayner opens regional office in Australia as global commercial growth continues
Posted on 19/01/2022
JANUARY 19, 2022 – Worthing, United Kingdom. Rayner, a leading ophthalmology company and the only British manufacturer of intraocular lenses (IOLs), announced today that it now has a direct sales presence in Australia as it continues its global commercial expansion.
Previously distributed through Designs For Vision, Rayner will now sell its products directly to surgeons and hospitals out of its new regional office in Sydney, Australia under the management of Lisa Farquhar, Rayner Country Manager for Australia & New Zealand.
Cary Dawes, Vice President of International at Rayner, commented on the announcement, "As a large market for cataract surgery with over 275,000 procedures performed each year, we want to build closer relationships with surgeons in Australia and listen carefully to their clinical requirements as we work hard on bringing an expanded portfolio of surgical solutions to the region. I would personally like to thank the team at Designs For Vision for driving the adoption of Rayner lenses in the Australian market and for the professional support they have provided to surgeons over many years."
As part of the move, Rayner staff from the UK have relocated to Sydney and the company has appointed Lisa Farquhar, an experienced local ophthalmology executive who will be well known to many in the industry, as their new Country Manager for Australia & New Zealand. On transitioning to a direct sales model in Australia, Lisa remarked, "It's a great time to be joining Rayner and I am excited for the challenge of leading their new Australian team. I look forward to connecting with many surgeons over the coming months to discuss our broad range of lenses, including ultra-stable toric IOLs and RayOne EMV, a non-diffractive enhanced monofocal IOL developed in partnership with Professor Graham Barrett."
END
About Rayner  
Since the implantation of the first Rayner intraocular lens by Sir Harold Ridley 1949, Rayner has continuously pioneered intraocular lens (IOL) design with a goal to improve vision and restore sight worldwide. Today, Rayner's mission remains to deliver innovative and clinically superior ophthalmic products that respond to the expectations of our global customers to improve the sight and quality of life of their patients.
Headquartered in Worthing, United Kingdom, Rayner markets its IOL, OVD, digital health and dry eye portfolio, worldwide in over 80 countries through a network of distributors and includes direct sales teams in the United Kingdom, USA, Germany, Austria, Switzerland, Italy, India, Spain and Portugal.
To support Rayner's international growth, CVC Capital Partners VIII acquired a majority interest in the company in June 2021. Established in 1981 and with international reach and experience in the healthcare sector, CVC is a world leader in private equity and credit with $125 billion of assets under management and $165 billion of funds committed.
For further information and media enquiries, please contact Rayner: marketingteam@rayner.com
EC 2022-02 01/22
Share this article