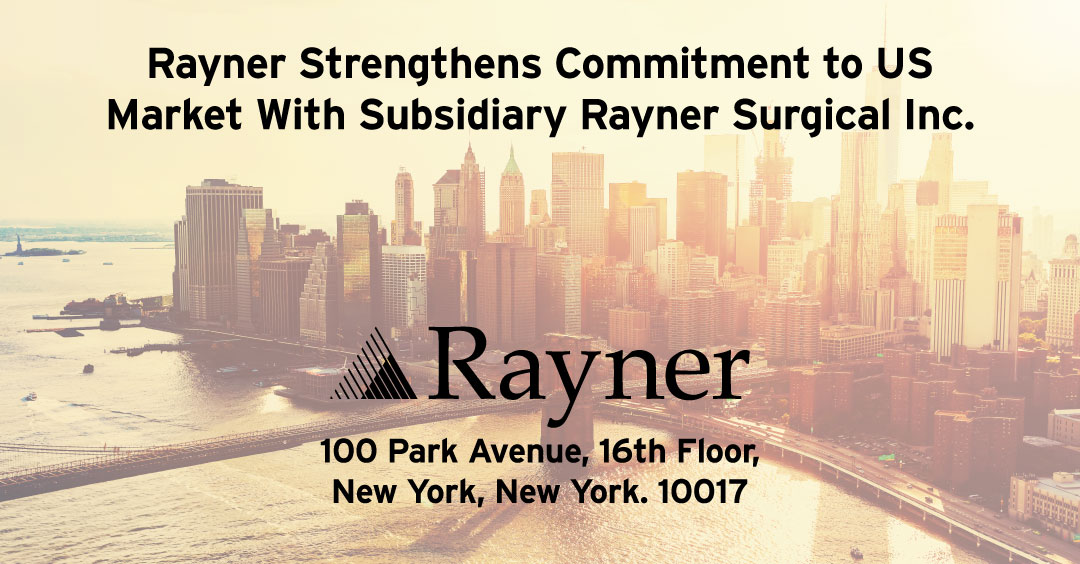 Rayner strengthens commitment to US market with subsidiary Rayner Surgical Inc.
Posted on 7/09/2017
For immediate release.
Rayner strengthens commitment to US market with subsidiary Rayner Surgical Inc.

7 September, 2017. With a large part of 2016 and 2017 focused on European expansion, Rayner announced today its investment into the US market with the establishment of a dedicated subsidiary, 'Rayner Surgical Inc.'Based out of New York, Rayner Surgical Inc. will provide US specific marketing, regulatory, commercial and research functions to Rayner. From its offices at 100 Park Avenue, NYC, Rayner Surgical Inc. will actively promote and support the growth and development of Rayner's business in the US. Rayner's latest lens platform – the 600C – has just received FDA approval and will be launched in the USA during 2018 in both manual and preloaded formats.
What does this mean for US surgeons?
A new, physical US presence will strengthen Rayner's relationships with US surgeons, universities and key opinion leaders (KOLs), generating valuable collaborative partnerships and identifying new opportunities in IOL design and innovation. Where clinical studies in the US are required, Rayner Surgical Inc. will lead in identifying suitable providers, investigators and investigation sites and in study design and management. The highest levels of customer service and greater knowledge of customer requirements is expected to lead to an exciting new IOL product pipeline for the American market, contributing to improvements in visual outcomes for clinicians and patients. Despite the renewed focus on US business operations, there will be no changes to the sales/order process of Rayner's existing portfolio of IOLs and injectors.
Strategic importance of US market
The United States is the largest IOL market in the world with more than four million cataract procedures forecast for 2017. A growing public demand for better visual outcomes after cataract and refractive surgery is seeing more and more patients opt for improved technologies. Aligned to this strategically significant market, Rayner Surgical Inc. will forge relationships with surgeons and innovators in the US to identify new opportunities in IOL design to better serve the specific needs of US customers.
Four decades of Rayner IOLs in the US
Dating back to the early '80s, Rayner has a strong history of working with US surgeons. Their Choyce MkVIII and MkIX anterior chamber designs were not only the first Rayner IOLs to be approved for commercial use in the USA, they were the first intraocular lenses ever to be approved by the FDA as safe and effective. The company also recently celebrated the 10-year anniversary of US Food and Drug Administration (FDA) approval of its flagship product, the C-flex monofocal IOL, Rayner's most implanted lens globally.
Bringing successful EU leadership to the US
In September 2017, Mr James Crutchlow relocated to New York from the United Kingdom to manage Rayner Surgical Inc. as Director – North America. James is well versed in similar projects having led on Rayner's direct entry into Spain, Italy and Portugal over the last two years, establishing wholly-owned subsidiaries. James has nearly ten years' life sciences experience, nine of which have been at Rayner. He is an MBA candidate at the University of Warwick and holds a BA (Hons) degree from the University of Central Lancashire. As a senior member of Rayner's commercial team, James can be relied on to deliver the objectives set for growth in the world's largest IOL market, in accordance with Rayner's values and its strategic plans.
Rayner CEO, Tim Clover, said: "Over the last few years, James has done an outstanding job in establishing and developing the Rayner business in countries like Spain and Italy which is growing over 400% year on year. I am very pleased that he has agreed to lead the company in this new direction. The investment in our US subsidiary marks a significant achievement in Rayner's ambitious growth strategy and we will continue to work hard in providing the US market with access to existing products as well as products in our pipeline, all with the ambition of delivering better patient outcomes."
Rayner's recent move to The Ridley Innovation Centre — with its trebled production capacity — will support their ambitious plans to expand their direct business on a global scale.
[ENDS]
About Rayner
Rayner is a leading developer and manufacturer of ophthalmic implants and pharmaceuticals. When Sir Harold Ridley designed the world's first IOL in 1949, he chose Rayner to manufacture this ground-breaking invention.
With more than 65 years of continuous growth and experience, we remain at the forefront of innovation. We are focused on providing the best visual outcomes for clinicians and patients and are driven by science to improve performance and safety.
Headquartered in Worthing, United Kingdom, Rayner markets its IOL portfolio and related products worldwide in over 80 countries through a network of distributors and includes direct sales teams in the United Kingdom, USA, Germany & Austria, Italy, Spain and Portugal.
For general enquiries or to arrange an interview, please contact Rayner: iol_enquiries@rayner.com
Not all Rayner products are approved for sale in every country. Please contact your local Rayner distributor for details of which products are available in your area.
Share this article