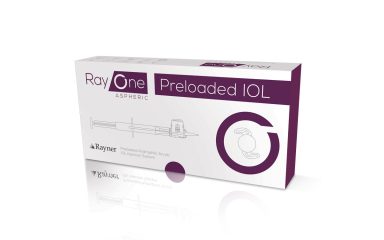 Rayner's RayOne Aspheric preloaded IOL launches in China
Posted on 10/05/2021
Takeaways:
Rayner's fully preloaded RayOne Aspheric IOL has received NMPA approval for sale in China.
RayOne Aspheric will be showcased at the

21st 

CSCRS from

 

3

-5 

June

 2021

 in Dalian

.
RayOne Aspheric offers a premium alternative to Rayner's C-flex/Superflex Aspheric monofocal IOLs.
Rayner's award-winning RayOne IOL platform has been used in over 1.6 million procedures since 2016.
Rayner will next seek NMPA approval for its RayOne EMV and RayOne Trifocal premium IOLs.
Worthing, UK, May 10, 2021 – British IOL manufacturer, Rayner, today announced that its RayOne Aspheric fully preloaded Intraocular Lens (IOL) injection system has been approved by the Chinese regulator, National Medical Products Administration (NMPA), and is now available for commercial use in China.
Product Approval Details
The NMPA granted regulatory approval and sale of the 6.0 mm RayOne Aspheric (RAO600C) monofocal IOL for the full power range from -10.0 D to +34.0 D.
Professor Zhu Siquan, Director of Ophthalmology Department, Beijing Tongren Hospital: "Renowned for its ease of use, the availability of RayOne Aspheric is an exciting development for ophthalmologists in China. I have been a long-time user of the C-flex Aspheric IOL and have high confidence in Rayner's latest innovation living up to its reputation for performance and outcomes. I am very much looking forward to offering RayOne Aspheric to my patients."
Lens and Injector Designed as One
When creating the RayOne system, Rayner developed its Micro Incision Cataract Surgery (MICS) lens and fully preloaded IOL injection system as part of the same design process. This combination has resulted in the smallest fully preloaded injector nozzle available, enabling a sub-2.2 mm incision.
The RayOne injector's Lock & Roll technology rolls the lens to under half its size in one simple action, allowing the lens to pass smoothly through the fully enclosed cartridge, without the need for lens handling. This minimises insertion force and enables a consistently smoother delivery.
What does this mean for cataract and refractive surgeons?
RayOne offers an injector that delivers the IOL consistently, with expert control, through a micro-incision with minimal wound stretch. The simple two-step preparation also means a minimal learning curve for surgeons' operating room staff, and ultimately more efficient cataract procedures.
Strong relationships and solid foundations for growth in China
Cary Dawes, Rayner Vice President International, said: ''Discussions with surgeons in China confirmed that there was a need for a more premium product to be offered in addition to our longstanding C-flex/Superflex monofocal IOLs, so I am very happy with our RayOne Aspheric NMPA approval and am grateful to everyone involved in the stringent application process.
Zhu Geng and the dedicated team at Beijing Cambridge have been Rayner's exclusive distributor in China for over 15 years, building close relationships with surgeons and the Rayner brand, so I'm confident that we will have a strong local launch. These solid foundations also place us in a strong position as we make more of the RayOne preloaded IOL family available in China over the coming years.''
In partnership with their regulatory agency Tigermed, Rayner will look to make further NMPA applications for its RayOne EMV and initiate a clinical study with RayOne Trifocal in the near future.
[ENDS]
About Rayner
Since the implantation of the first Rayner intraocular lens by Sir Harold Ridley 1949, Rayner has continuously pioneered intraocular lens (IOL) design with the goal to improve vision and restore sight worldwide. With over 70 years of continuous growth and experience, Rayner remains at the forefront of innovation. Rayner is focused on providing the best visual outcomes for clinicians and patients, and driven by science to improve performance and safety. In 2020, Rayner won the Queen's Award for Enterprise (Innovation) for its RayOne preloaded injector.
Headquartered in Worthing, United Kingdom, Rayner provides IOLs, ophthalmic viscoelastic devices (OVDs) and dry eye therapies worldwide in over 80 countries through a network of distributors as well as direct sales teams in the United Kingdom, USA & Canada, Germany & Austria, Italy, Spain, Portugal and Russia.
For general enquiries or to arrange an interview, please contact Tim Brown, Global Marketing Manager Surgical (timbrown@rayner.com).
Not all Rayner products are approved for sale in every country. Please contact your local Rayner distributor for details of which products are available in your area.
©2021 Rayner Intraocular Lenses Limited. Rayner and RayOne are proprietary marks of Rayner. EC 2021-37 05/21
Share this article