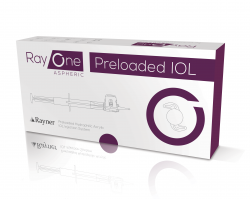 RayOne Fully Preloaded IOL Injection System. Now available in Brazil.
Posted on 11/07/2017
For immediate release.
Date: 11 July, 2017.
RayOne Fully Preloaded IOL Injection System. Now available in Brazil.
More surgeons to access the smallest Fully Preloaded IOL Incision
Rayner announced today the latest update in the RayOne story: registration of the RayOne Aspheric and Spheric monofocal fully preloaded IOL injection systems has been listed in the Federal Register by ANVISA, the Brazilian National Sanitary Surveillance Agency.
Product approval details
ANVISA granted regulatory approval and sale of the RayOne aberration-neutral Aspheric (RAO600C) and RayOne Spheric (RAO100C)for the full power range:
• -10.0 D to +34.0 D (including plano) (both models)
Dr Marcelo Ventura, M.D., PhD, Director of HOPE Hospital and Altino Ventura Foundation, Recife/PE, Brazil, said: "In 1984, I implanted my first IOL and it was from Rayner. I have always seen Rayner to be at the forefront of technology, and I look forward to experiencing their new RayOne fully preloaded IOL injection system."
About new RayOne
Lens and injector designed as one to create the smallest fully preloaded IOL incision
Rayner developed their new MICS lens and fully preloaded IOL injection system with patented Lock & Roll technology as part of the same design process. This combination has resulted in the smallest fully preloaded injector nozzle available.
Lock & Roll technology rolls the lens to under half its size in one simple action, allowing the lens to pass smoothly though the fully enclosed cartridge, without the need for lens handling. This minimises insertion force and enables a consistently smoother delivery.
Enhanced 6.0 mm optic, retaining proven stability and optical performance of existing platform
The new RayOne MICS lens is an enhanced version of the tried-and-tested C-flex and Superflex platforms, combined into a single 6.0 mm optic design. The material and design benefits of the original lenses have been retained, without compromising on proven stability or optical performance. This new RayOne platform will be the base for the next generation of Rayner IOLs.
What does this all mean for our surgeons?
RayOne offers an injector which delivers the IOL consistently, with expert control, through a micro incision with minimal wound stretch, including patented Lock & Roll technology for the smallest fully preloaded IOL incision.
Bruna Ventura, MD, ophthalmologist from HOPE Hospital and Altino Ventura Foundation, said: "We are in a point of time in which we can offer more and more to our cataract patients. This is a direct result of new technology, lenses and devices developed by the industry. I am eager to use the new RayOne lenses from Rayner and excited about their innovations that are in the pipeline."
Dr. Walton Nosé, Assistant Professor of the Federal University of São Paulo – Eye Clinic, said: "Rayner innovated, and with great investment in technology, brought to Brazil their intraocular lens on the RayOne platform. It is undoubtedly a great gift to surgeons and their patients, with improved visual outcomes for patients undergoing cataract surgery."
Commitment to Brazil
Rayner commercial director Cary Dawes said: "Achieving a record of over 300 surgeon demonstrations, RayOne was officially launched at the 2016 ESCRS in Copenhagen, and we have been working hard to meet the demands of distributors by getting this popular product into as many countries as quickly as possible."
"Brazil is a key market for Rayner and we're delighted to be in a position where we can tell our surgeons in Brazil that they are able to access RayOne sooner than expected. This is thanks to the hard work of our regulatory team, who have worked around the clock with Adapt: our exclusive distributor in Brazil," he said.
Rayner legacy product availability in Brazil
In addition to RayOne Spheric and Aspheric IOLs, Rayner's full portfolio of capsular bag IOLs — which includes toric, multifocal,and multifocal-toric IOLs – is available for commercial use in Brazil. The Sulcoflex pseudophakic supplementary range of IOLs, designed for ciliary sulcus implantation and indicated for treating residual ametropia and presbyopia after primary capsular bag IOL surgery, is also popular with surgeons in Brazil.
RayOne global availability
RayOne has been approved and is widely available in over 70 countries including Europe and the Middle East.
Please contact your local Rayner distributor to find out details of RayOne availability in your market.
For more information about RayOne please click here
To view the latest scientific paper on RayOne please click here
[ENDS]
About Rayner
Rayner is a leading developer and manufacturer of ophthalmic implants and pharmaceuticals. When Sir Harold Ridley designed the world's first IOL in 1949, he chose Rayner to manufacture this ground-breaking invention.
With more than 65 years of continuous growth and experience, we remain at the forefront of innovation. We are focused on providing the best visual outcomes for clinicians and patients and are driven by science to improve performance and safety.
Headquartered in Worthing, United Kingdom, Rayner markets its IOL portfolio and related products worldwide in over 80 countries through a network of distributors and includes direct sales teams in the United Kingdom, USA, Germany & Austria, Italy, Spain and Portugal.
For general enquiries or to arrange an interview, please contact Rayner: iol_enquiries@rayner.com
Not all Rayner products are approved for sale in every country. Please contact your local Rayner distributor for details of which products are available in your area.
Share this article