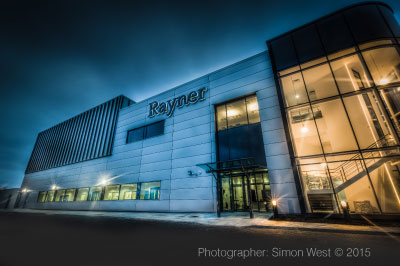 A clear vision for the future of cataract surgery
Posted on 7/04/2016
For immediate release
Date: 7th April 2016
At Rayner, our aim has always been to provide cataract surgeons with high-quality, innovative and simple solutions which enable superior patient outcomes.
State-of-the-art new facility
Today, we are bringing new impetus to this focus with the opening of The Ridley Innovation Centre, our new £20 million R&D, training and production facility in Worthing, West Sussex. This state-of-the-art, dedicated intraocular lens (IOL) production facility has the capability of manufacturing three million intraocular lenses each year. In addition, our new Enterprise Resource Planning (ERP) quality system enables us to trace every lens from source materials to a patient's eye. Rayner is the only IOL manufacturer in the UK and our investment represents commitment to delivering competitive high quality technology from a well-trained UK manufacturing team.
Collaborating with leading experts
The new centre was also designed with the surgeon at its heart to enable training, education and research. Featuring a wet lab, library, training facilities and even a museum on the history of the IOL, this enables Rayner to engage and partner surgeons and academics in new product development.
Testament to this culture is a product pipeline of 11 new products in 3 years planned to transform Rayner into one of the leading manufacturers of IOLs.
Tim Clover, CEO,explains the significance of the new building: "The opening of The Ridley Innovation Centre marks a significant step in what we plan to be an exciting, transformative period of growth ahead of Rayner. This major investment will treble our manufacturing capacity and put us in the best position to support the company's ambitious business expansion."
[ENDS]
About Rayner
Rayner designs and manufactures intraocular lenses (IOLs) and proprietary injection devices for use in cataract surgery. As the first manufacturer of the IOL, we have been working with surgeons for longer than anyone. Today, we exist to enable surgeons to focus on what matters: improving patient's sight. We aim to remain at the forefront of innovation, developing clinically superior ophthalmic tools that aid and streamline the surgical process, with the ultimate objective of improving sight and quality of life.
For questions or to schedule an interview with a Rayner representative, please contact Rayner: iol_enquiries@rayner.com
Not all Rayner products are approved for sale in every country. Please contact your local Rayner distributor for details of which products are available in your area.
©2016 Rayner Intraocular Lenses Limited.
EC201628
Share this article