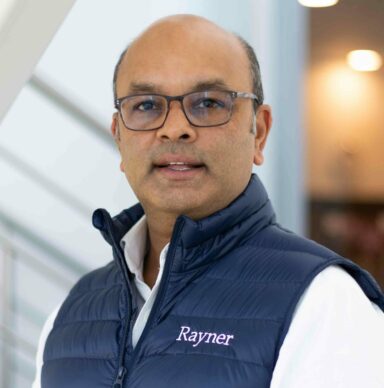 Kuntal Joshi
Posted on 21/04/2023
Kuntal joined Rayner in October 2022 as Vice President, International Markets, responsible for the commercial success of Rayner's growing business and extensive growth plans in the international markets.
Kuntal has close to 30 years of varied sales, marketing and senior management experience in medical devices and specifically ophthalmology. Having worked for Ethicon, part of Johnson & Johnson, NIDEK, Alcon, Bausch + Lomb over the last 30 odd years; Kuntal brings to the team a deep understanding of global commercial markets and ophthalmology from diagnostics to surgical and pharmaceutical products.
Kuntal brings to the team a deep understanding of the commercial markets with extensive experience and successes across many geographies, including Asia Pacific, Europe, Middle East & Africa, United States & South America. Kuntal has lived in various parts of Africa, the US, Australia and most recently Singapore.
He has a post graduate degree / MBA in Business Management & International Studies.
Kuntal is a keen cyclist and scuba diver and enjoys the outdoors and in his spare time is a student of wines through the WSET program.
Share this article