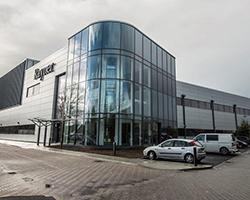 British manufacturer Rayner looks to the future with ambitious business transformation
Posted on 7/04/2016
For immediate release.
Date: 7th April 2016
Rayner is an independent British business and one of the world's top manufacturers of intraocular lenses (IOLs) for the global market. Last year alone we produced more than 800,000 IOLs.
Part of our business philosophy from day one has been a focus on innovation to provide cataract surgeons with high-quality, functionally superior and simple solutions that provide excellent patient outcomes. Indeed, we were the first to introduce the intraocular lens in 1949. We also developed Sulcoflex, the 'top up' lens for secondary implantation. In addition, we have just launched the world's first OVD containing sorbitol (a Free Radical Scavenger) for enhanced corneal protection.
We are now accelerating this commitment to innovation with a business and technological transformation.
Growth through progress
This begins with a planned campaign of product launches; 11 pioneering product developments in just three years. We work closely with surgeons to pinpoint the areas that are currently preventing them from delivering the very best outcomes. This insight – and our refined focus following the sale of the optician side of our business in 2014 – means we can now concentrate on bringing to market innovative lenses and associated products such as the new RayOne fully preloaded lens system, which will be released later in 2016.
We have also had a complete change of management, including the appointments of Tim Clover (CEO) and Darren Millington (CFO). They share a vision of doubling revenue within three years to drive a significant increase in our share of a £3.5 billion global market that is growing annually by around 7 %. Part of their strategy is to secure the investment needed to fuel R&D while remaining independent and British.
Unveiling our flagship site
This commitment is also manifested in our new £20 million, state-of-the-art facility in Worthing, which is dedicated purely to IOLs and has the capability of manufacturing up to 3 million IOLs each year. In addition, our new Enterprise Resource Planning (ERP) quality system means that every lens can be traced from source material all the way to a patient's eye.
Collaborating with leading experts
Complementing the impressive production capabilities, our new centre has been designed with the surgeon at its heart to enable training, education and research. Featuring a wet lab, library, training facilities and even a museum on the history of the IOL, this enables Rayner to engage and partner surgeons and academics in new product development.
Facing the future with confidence
This is the beginning of a new era for our company. "We are investing heavily in R&D in collaboration with our global advisory board. The Ridley Innovation Centre gives us the basis for substantial product development and exciting new areas of research as well as being a vote of confidence in high technology UK manufacturing," explains CEO Tim Clover. "We are well positioned to take on the global giants of ophthalmology by being nimbler, flexible and closer to the voice of our customer. We aim to keep our model simple – design and produce IOLs but do it better than anyone else."
[ENDS]
About Rayner
Rayner designs and manufactures intraocular lenses (IOLs) and proprietary injection devices for use in cataract surgery. As the first manufacturer of the IOL, we have been working with surgeons for longer than anyone. Today, we exist to enable surgeons to focus on what matters: improving patient's sight. We aim to remain at the forefront of innovation, developing clinically superior ophthalmic tools that aid and streamline the surgical process, with the ultimate objective of improving sight and quality of life.
For questions or to schedule an interview with a Rayner representative, please contact Rayner: iol_enquiries@rayner.com
©2016 Rayner Intraocular Lenses Limited. RayOne and Sulcoflex are registered trademarks of Rayner.
EC201627
Share this article