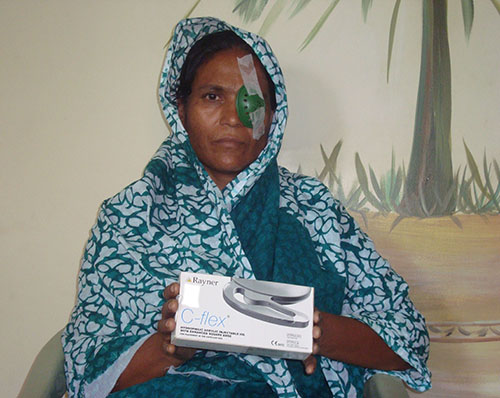 IMPACT X Rayner
Posted on 27/04/2016
Celebrating: Over 1,500 Eyes to See Again in 2015. 11,000 Eyes to See Again Since 1999
IMPACT is an international programme to prevent and alleviate needless disability. All of their projects are run by local people who are in touch with real need, and also allows them to contribute resources which ensures that that work is cost-effective and appropriate. Operations are free to the poorest people.
Rayner is very proud to be associated with IMPACT Foundation Bangladesh and in April 2016, Rayner will have donated a total of 11,000 premium quality monofocal IOLs over the last 11 years.
1,500 Eyes in 2015: A Report from IMPACT
In the year 2015, IFB received 1,600 IOLs from Rayner Intraocular Lenses Limited. During January to December 2015, IMPACT Foundation Bangladesh (IFB) performed 1,528 cataract surgeries with the lenses donated by Rayner, restoring eyesight to rural people suffering from blindness.
Nasrin's story
"Nasrin, 26 years old, lives in Sultanpur village in Norshinidi district. She is a homemaker and her husband works as an electrician in the nearest bazar. She lives happily with her two children, but she has had low vision in her left eye since childhood after receiving a hit whilst playing with her friends. 
She informed her parents, but they did not give her any importance and did not take her to a doctor. Gradually, her vision became low and she tried adjusting accordingly.
In 2013, Nasrin noticed that the vision in her left eye was getting worse and she eventually could not see at all. She could not do her daily household work properly. Her husband took her to the doctor who suggested that it should be operated on as soon as possible.
The cost of operation was far beyond their financial ability, and they lost hope in curing that eye.
In December 2014, IMPACT's Jibon Tari Floating Hospital anchored at Kanchan Bazar in Naraygoni District, adjacent to Narshindi District. Once Nasrin's husband heard about the Jibon Tari Floating Hospital's eye care service he decided to take Nasrin on board. Nasrin was screened and the doctor suggested a cataract operation. On the fixed day, Nasrin attended and received an IOL in her left eyecame and received an operation in her left eye. When the bandage was removed she could see again. 'Oh Allah! I can see again", she exclaimed."
IMPACT Masudul Haque Memorial Community Health Centre, Chuadanga (IMCHC)In partnership with Rayner Intraocular Lenses Limited, IFB has been able to reach some of the poorest communities, treating and preventing cataract-caused blindness. Rayner has been regularly donating intraocular lenses (IOLs) free of cost since 1999, contributing to restoring the eyesight of thousands of marginalised, poor people living in isolated communities.
IFB offers cataract surgery services through their three hospitals:
IMPACT Jibon Tari Floating Hospital (JT)
IMPACT Jibon Mela Health Center, Meherpur (JM)
For further information on world cataract blindness please click here:
http://www.iapb.org/vision-2020/what-is-avoidable-blindness/cataract
Share this article