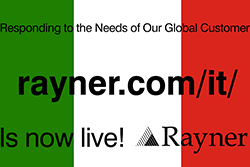 Making learning easier for our global surgeon: The launch of Rayner.com/IT
Posted on 18/11/2016
Italian-speaking surgeons can now find a solution to their needs more efficiently and with greater ease thanks to the launch of an Italian translation of our global website www.staging.rayner.com.
"Having recently announced our direct entry into Italy, it makes sense to offer surgeons an Italian translation of the Rayner website, joining our German, French and Spanish translations," said Claire Scully-Poulter, Marketing Communications Manager at Rayner. "Now that we have a dedicated business in Italy, it's only natural to expect an increased amount of traffic to our website from Italian-speaking surgeons. It's important to cater for this demand and demonstrate our support as we grow in this market."
The new website also coincides with the upcoming SOI meeting in Rome, Italy (23-26 November), where Dr. Simonetta Morselli and Dr.Piero Ceruti will be performing live surgery using RayOne; the new, fully preloaded IOL injection system from Rayner.
In an industry with such specific vocabulary, it's not enough to rely on online tools to convey the specific nuances of the ophthalmic language. That's why Rayner places such high importance on offering its key markets a dedicated language version of the website for an optimum learning experience.
The numerous website translations also reflect the global presence of the company.
In addition to launching multiple website translations, Rayner has also been expanding on other digital platforms:
Share this article