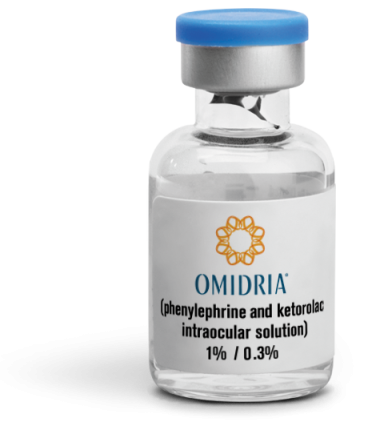 Rayner acquires Omidria to expand surgical offering in USA and Europe
Posted on 2/12/2021
DECEMBER 02, 2021 – Worthing, United Kingdom. Rayner Surgical Group ('Rayner') and Omeros Corporation ('Omeros') are delighted to announce the transfer of Omeros' ophthalmology assets, including OmidriaTM, to Rayner. This will enable the creation of a significant commercial, regulatory and marketing infrastructure in the US, with a broad range of products, including intraocular lenses (IOLs), for cataract surgeons.
OmidriaTM has excellent and substantial clinical data supporting the maintenance of mydriasis (a dilated pupil) during surgery, protection of the eye from cystoid macular oedema and the reduction of post-operative pain without the use of opioids.
OmidriaTM was approved by the US FDA in 2015 and has since become a key product in surgeons' arsenals. It was also granted EMA approval for marketing in Europe, and Rayner is excited to bring OmidriaTM to European ophthalmologists through its direct businesses across Europe.
Commenting on the transfer, Dr Vance Thompson, a leading US ophthalmologist and OmidriaTM user said, "We appreciate the security and improved care delivered by OmidriaTM and are excited to see this combine with the Rayner IOL portfolio to create an important new partner for US cataract surgeons."
Mr Allon Barsam, a prominent London based ophthalmologist remarked, "We work closely with Rayner on their advanced technology IOLs and I also worked on the original clinical studies of OmidriaTM. It's great to see this product coming to Europe and is consistent with Rayner's vision to provide superior visual outcomes."
"Rayner has over 100 years of heritage in ophthalmology including designing and manufacturing the world's first IOL with Sir Harold Ridley in 1949. In recent years the company has expanded its manufacturing and commercial presence, now selling in over 80 countries across the world with a significant direct presence in Europe. Our strategic focus is on visual outcomes and patient safety through a range of surgical products and eye drops. The inclusion of OmidriaTM into the portfolio makes perfect sense and I am particularly excited to see the OmidriaTM commercial team join Rayner," said Tim Clover, Rayner's CEO.
The transaction is expected to complete, subject to clearances, by 31 December 2021. Rayner was advised by Rothschild & Co, Freshfields Bruckhaus Deringer, PWC, LEK Associates, Avalere Health and Emmetropes.
END
About Rayner 
Since the implantation of the first Rayner intraocular lens by Sir Harold Ridley 1949, Rayner has continuously pioneered intraocular lens (IOL) design with a goal to improve vision and restore sight worldwide. Today, Rayner's mission remains to deliver innovative and clinically superior ophthalmic products that respond to the expectations of our global customers to improve the sight and quality of life of their patients.
Headquartered in Worthing, United Kingdom, Rayner markets its IOL, OVD, digital health and dry eye portfolio, worldwide in over 80 countries through a network of distributors and includes direct sales teams in the United Kingdom, USA, Germany, Austria, Switzerland, Italy, India, Spain and Portugal.
To support Rayner's international growth, CVC Capital Partners VIII acquired a majority interest in the company in June 2021. Established in 1981 and with international reach and experience in the healthcare sector, CVC is a world leader in private equity and credit with $125 billion of assets under management and $165 billion of funds committed.
For further information and media enquiries, please contact Rayner: marketingteam@rayner.com
EC 2021-90 12/21
Share this article