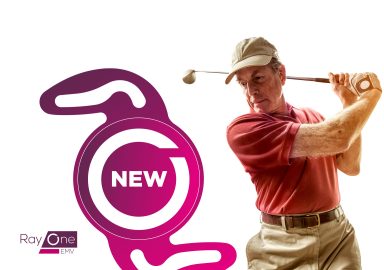 RayOne EMV IOL (Rayner) Receives FDA Approval
Posted on 26/03/2021
New York, USA, March 26, 2021 – RayOne EMV, a new fully preloaded non-diffractive IOL, has received FDA approval.
RayOne EMV was developed in collaboration with world renowned surgeon Professor Graham Barrett, president of the Australasian Society of Cataract & Refractive Surgeons.
"I collaborated with Rayner on bringing to market RayOne EMV, an exciting new product for all surgeons," said Professor Barrett.
Initial clinical results
Dr. Mariano Royo, Director of Ophthalmology at the Hospital San Rafael in Madrid and Director of the Ophthalmic Institute of Madrid, shared his clinical results of 22 eyes of 11 patients implanted with RayOne EMV measured at six months post-op.
Dr. Royo reported that 100% of his patients that received RayOne EMV achieved spectacle independence in the distance and intermediate range. The average reading aid at 33 cm was reported to be +1.5 D, and one in three patients had functional near vision without the need for spectacles.1
What does this mean for surgeons?
RayOne EMV is a cost-effective solution for patients when diffractive IOLs may be cost prohibitive or if there are concerns about dysphotopsia.
"Following approval of our RayOne and RayPRO platforms in 2019 we have been steadily increasing our investment in the USA to be one of our most important markets worldwide. The approval of RayOne EMV is important as it allows surgeons to offer patients a new option which has been tried and tested in thousands of patients around the world" stated Tim Clover, Rayner CEO.
Patient outcomes for RayOne EMV can be tracked using RayPRO, a free contactless telehealth solution that collects three years' worth of Patient Reported Outcomes after cataract or refractive surgery.
Please contact USMarketing@rayner.com to request Dr. Royo's clinical results, more information on RayOne EMV, and an evaluation.
1Royo, M. RayOne EMV and TECNIS Eyhance: A Comparative Clinical Defocus Curve. Data on file. 2021.
[ENDS]
About Rayner
Rayner designs and manufactures Intraocular Lenses (IOLs) as well as other ophthalmic solutions for use across the cataract patient's clinical pathway. In partnership with Sir Harold Ridley, Rayner manufactured the world's first intraocular lens, which was implanted in a patient on the 29th November 1949 in the St. Thomas Hospital in London, United Kingdom.
With over 70 years of continuous growth and experience, we remain at the forefront of innovation. We are focused on providing the best visual outcomes for clinicians and patients and are driven by science to improve performance and safety. In 2020 Rayner won the Queen's Award for Enterprise in the category Innovation for its RayOne preloaded injector.
Headquartered in Worthing, United Kingdom, Rayner markets its products worldwide in over 90 countries through a network of distributors as well as direct sales offices in the United Kingdom, USA, Germany, Austria, Italy, Spain, Portugal, and Russia. Not all Rayner products are approved for sale in every country. Please contact your local Rayner representative for details of which products are available in your area.
©2021 Rayner Intraocular Lenses Limited. EC 2021-24
Share this article