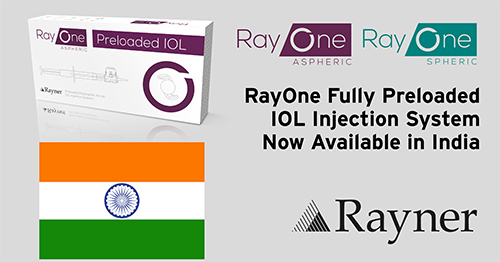 Surgeons in India to access RayOne fully preloaded IOL injection system.
Posted on 17/10/2017
For immediate release.
Date: 17 October, 2017.
Surgeons in India to access RayOne fully preloaded IOL injection system.
British IOL manufacturer, Rayner, announced today that their new RayOne fully preloaded IOL injection system has received Central Drugs Standard Organisation (CDSCO) approval and is being launched in India.
Product approval details
The CDSCO granted regulatory approval and sale of the RayOne aberration-neutral Aspheric (RAO600C) and the RayOne Spheric (RAO100C) for the full power range:
• -10.0 D to +34.0 D (including plano) (both models)
About new RayOne
Lens and injector designed as one to create the smallest fully preloaded IOL incision
Rayner developed their new MICS lens and fully preloaded IOL injection system with patented Lock & Roll technology as part of the same design process. This combination has resulted in the smallest fully preloaded injector nozzle available.
Lock & Roll technology rolls the lens to under half its size in one simple action, allowing the lens to pass smoothly though the fully enclosed cartridge, without the need for lens handling. This minimises insertion force and enables a consistently smoother delivery.
Enhanced 6.0 mm optic, retaining proven stability and optical performance of existing platform
The new RayOneMICS lens is an enhanced version of the tried-and-tested C-flex and Superflex platforms, combined into a single 6.0 mm optic design. The material and design benefits of the original lenses have been retained, without compromising on proven stability or optical performance. This new RayOne platform will be the base for the next generation of Rayner IOLs.
What does this all mean for our surgeons?
RayOne offers an injector which delivers the IOL consistently, with expert control, through a micro incision with minimal wound stretch, including patented Lock & Roll technology for the smallest fully preloaded IOL incision.
Rayner Vice President, International, Cary Dawes said: 'India has always been an important market for Rayner, and as the market continues to move away from PMMA lenses, the opportunities continue to grow for us as we launch new technologies and IOL systems. Surgicon has been Rayner's exclusive distributor in India for over 20 years in a very competitive market. MD Rajesh Dave and his team represent the quality and value that comes with the Rayner brand, and the strength of their relationships with surgeons gives me every reason to believe that we will see a successful launch and product lifecycle of RayOne in this key export market. I am sure ophthalmic surgeons will welcome the technologically superior RayOne.'
Rayner legacy product availability in India
In addition to the RayOne Aspheric and Spheric monofocal fully preloaded system, Rayner's product portfolio in India comprises the following products:
Manually Loaded Primary IOLs
– C-flex Aspheric Monofocal
– Superflex Aspheric Monofocal
– M-flex Multifocal
– M-flex T Multifocal Toric
– T-flex Aspheric Toric
Manually Loaded Supplementary IOLs
– Sulcoflex Aspheric
– Sulcoflex Multifocal
– Sulcoflex Toric
– Sulcoflex Multifocal Toric
RayOne global availability
The new technology is already approved and widely used in over 70 countries including Europe and the Middle East.
Please contact your local Rayner distributor  to find out details of RayOne availability in your market.
For more information about RayOne please click here
To view the latest scientific paper on RayOne please click here
[ENDS]
About Rayner
Rayner is a leading developer and manufacturer of ophthalmic implants and pharmaceuticals. When Sir Harold Ridley designed the world's first IOL in 1949, he chose Rayner to manufacture this ground-breaking invention.
With more than 65 years of continuous growth and experience, we remain at the forefront of innovation. We are focused on providing the best visual outcomes for clinicians and patients and are driven by science to improve performance and safety.
Headquartered in Worthing, United Kingdom, Rayner markets its IOL portfolio and related products worldwide in over 80 countries through a network of distributors and includes direct sales teams in the United Kingdom, USA, Germany & Austria, Italy, Spain and Portugal.
For general enquiries or to arrange an interview, please contact Rayner: iol_enquiries@rayner.com
Not all Rayner products are approved for sale in every country. Please contact your local Rayner distributor for details of which products are available in your area.
Share this article