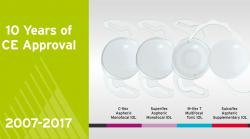 Ten year milestones achieved for key Primary & Supplementary IOLs. 2017 in review.
Posted on 17/01/2018
For immediate release
Ten year milestones achieved for key Primary & Supplementary IOLs. 2017 in review.
18th January, 2018. Worthing, United Kingdom. Over the course of 2017, Rayner marked the ten year anniversary for receiving CE approval for the following IOLs:
Milestone one:
Sulcoflex Aspheric Supplementary IOL: A solution to a very real surgeon pain point.
With advanced IOL design and modern surgical techniques, an exact refractive result following cataract surgery with implantation of an IOL is a reasonable expectation. However, even the most careful biometry and surgery can result in a less than optimal patient outcome.
Invented by Professor Michael Amon (Vienna, Austria), in collaboration with Rayner R&D, Rayner Sulcoflex Pseudophakic Supplementary IOLs are specifically designed to be implanted in the ciliary-sulcus as a secondary implant in the pseudophakic eye, and are indicated for the correction of post-operative residual refractive errors, without the trauma, or increased surgical risk, of an IOL exchange.
Commenting on the introduction of Sulcoflex, Professor Amon said: "Besides the numerous indications of the monofocal Sulcoflex, for "Duet-procedures", the Sulcoflex platform offers an elegant, reversible option for spectacle independency."
Product launch coming soon: Surgeons can expect an exciting new addition to the Rayner Sulcoflex family in 2018. Keep a close watch on Rayner in the press for further details.
Milestones two & three:
The C-flex Aspheric & Superflex Aspheric launch in 2007
An evolution of the C-flex monofocal & Superflex monofocal models, brought to market in 2003, the Rayner C-flex Aspheric and Superflex Aspheric IOLs both incorporate Rayner's aberration neutral optic technology, offering optimal visual quality and functioning visual acuity in all lighting conditions.
Milestone four:
A clear patient benefit inspires the introduction of M-flex T Multifocal Toric IOL
Standard multifocal IOLs are often associated with sub-optimal results in patients with significant corneal astigmatism. With Rayner M-flex T Multifocal Toric IOLs, the combination of the multifocal and toric optical components of T-flex and M-flex allows the benefit of reduced spectacle dependence to be extended to those patients.
M-flex T, the world's first multifocal toric IOL, was implanted by Professor Gerd Auffarth (Heidelberg, Germany) on 28th June 2006.
Additional key milestone achieved in 2017
In addition to the achievements listed above, Rayner also celebrated the ten year anniversary of US Food and Drug Administration (FDA) approval of the C-flex 570C monofocal IOL for commercial use in the United States of America.
To read the full press release please click here
[ENDS]
About Rayner
Rayner is a leading developer and manufacturer of ophthalmic implants and pharmaceuticals. When Sir Harold Ridley designed the world's first IOL in 1949, he chose Rayner to manufacture this ground-breaking invention.
With more than 65 years of continuous growth and experience, we remain at the forefront of innovation. We are focused on providing the best visual outcomes for clinicians and patients and are driven by science to improve performance and safety.
Headquartered in Worthing, United Kingdom, Rayner markets its IOL portfolio and related products worldwide in over 80 countries through a network of distributors and includes direct sales teams in the United Kingdom, USA, Germany & Austria, Italy, Spain andPortugal.
For general enquiries or to arrange an interview, please contact Rayner: iol_enquiries@rayner.com
Not all Rayner products are approved for sale in every country. Please contact your local Rayner distributor for details of which products are available in your area.
Share this article