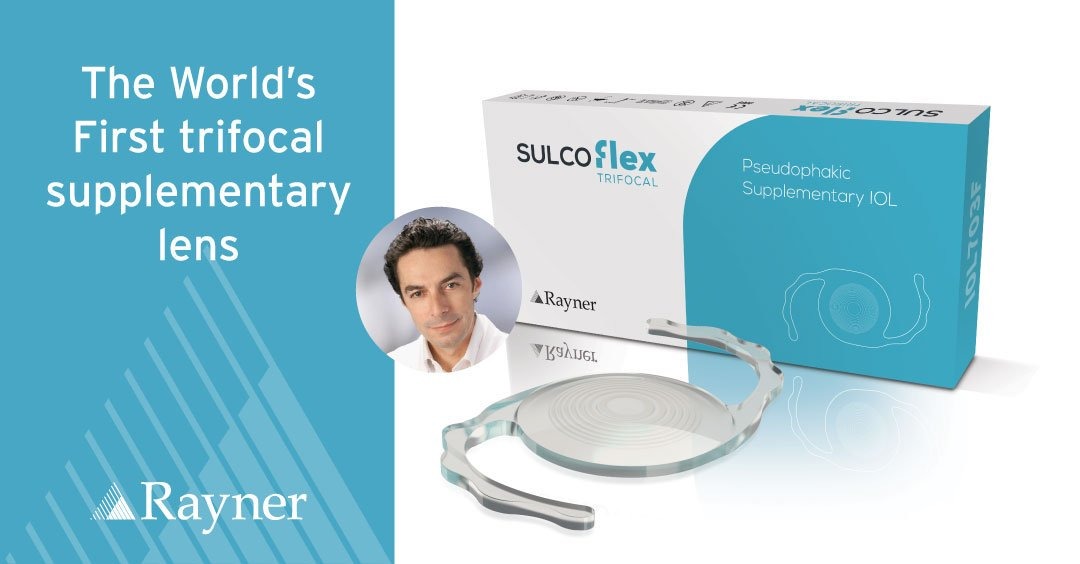 The world's first Trifocal Supplementary IOL. Rayner set to launch the Sulcoflex Trifocal at the 2018 ESCRS in Vienna.
Posted on 7/08/2018
For Immediate Release
Date: 7th August 2018
Rayner are proud to announce the launch of the new, CE marked Sulcoflex Trifocal Pseudophakic Supplementary IOL at the 2018 ESCRS in Vienna.
Rayner's most technologically advanced IOL
The Sulcoflex Trifocal combines Rayner's pseudophakic supplementary Sulcoflex platform — designed to be implanted in the ciliary sulcus and with over ten years of successful outcomes — with the patented trifocal optic technology of the recently launched RayOne Trifocal IOL.
Commenting on the launch, Rayner CEO, Tim Clover, said: ''Almost as soon as we launched the RayOne Trifocal last year, surgeons were asking when it would be available in the Sulcoflex platform. Not only does this offer an upgrade to the latest trifocality for previous cataract patients but also an adjustable, personalised duet procedure for new patients when combined with RayOne Aspheric or RayOne Toric".
First implantations already under way
On 30th July 2018, Professor Michael Amon, MD, Head of the Department of Ophthalmology at the Hospital of St. John, Vienna, Austria and inventor of the Sulcoflex IOL Family in collaboration with Rayner R&D, performed the first implantation of Sulcoflex Trifocal.
Commenting on the surgery, he said: "The surgery of the first Trifocal Supplementary IOL went smoothly; implantation was controlled with very good IOL-centration."

One month follow-up data to be presented at the 2018 ESCRS in Vienna
Surgeons are invited to join Rayner on Sunday 23rd September at 1pm for their ESCRS Symposium, "Rayner: Leading the Way to Offer More Patients a Trifocal Solution. Surgeon Panel Discussion on RayOneTrifocal and the New Sulcoflex Trifocal" where Professor Amon will be presenting his one month follow-up data on these early implantations and will also be addressing questions submitted prior to the symposium (questions regarding the early implantations can be submitted here, first implantation video can be watched here).
Features & benefits of the Sulcoflex platform
An adjustable solution for peace of mind, the Sulcoflex platform has a low complication rate1 and is proven to provide better centration compared to capsular bag multifocal IOLs2.
Features & benefits of the Rayner Trifocal optic
A patented optic design for comfortable transition from near to distant visual ranges and with 89 % of light transmitted to the retina with a pupil of 3 mm. A minimal number of diffractive rings/steps means that patients can benefit from reduced visual disturbances.
What does this mean for surgeons?
The reversibility afforded by the Sulcoflex Trifocal means that surgeons can now treat an even wider range of patients for presbyopia, to meet both their visual and lifestyle needs.
Find out more at ESCRS
Surgeons are invited to join Rayner on booth B409 Hall B at ESCRS 2018 in Vienna between 22nd and 26th September 2018 to learn more about their latest innovation. Media interviews can be arranged with Tim Clover (CEO). Please contact Tim Brown: marketingteam@rayner.com with questions about the Sulcoflex Trifocal or to arrange an interview.
References
1 Khan, M.I. & Muhtaseb, M. P. J Cataract Refract Surg. Piggybacking With the Sulcoflex. 2010;36:14-6.
2 Prager F et al. Capsular bag-fixated and ciliary sulcus-fixated intraocular lens centration after supplementary intraocular lens implantation in the same eye. J Cataract Refract Surg. 2017; 43 (5): 643-647.
[Ends]
About Rayner
Rayner is a leading developer and manufacturer of ophthalmic implants and pharmaceuticals. When Sir Harold Ridley designed the world's first IOL in 1949, he chose Rayner to manufacture this ground-breaking invention.
With nearly 70 years of continuous growth and experience, we remain at the forefront of innovation. We are focused on providing the best visual outcomes for clinicians and patients and are driven by science to improve performance and safety.
Headquartered in Worthing, United Kingdom, Rayner markets its IOL portfolio and related products worldwide in over 80 countries through a network of distributors and includes direct sales teams in the United Kingdom, USA, Germany & Austria, Italy, Spain andPortugal.
For general enquiries or to arrange an interview, please contact Rayner: iol_enquiries@rayner.com
Not all Rayner products are approved for sale in every country. Please contact your local Rayner distributor for details of which products are available in your area.
Share this article