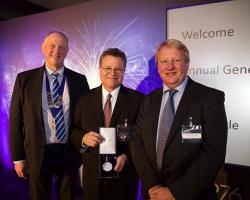 Warren Hill presents the 2016 Rayner Medal Lecture: 'Improving intraocular lens power calculations'
Posted on 4/11/2016
With his innovative approach to measuring biometry, it probably came as no surprise to many that the honour of presenting the 2016 Rayner Medal Lecture was awarded to Dr Warren Hill.
United Kingdom and Ireland Society of Cataract and Refractive Surgeons (UKISCRS) Secretary Satish Srinivasan explains, "UKISCRS was delighted to invite Dr. Warren Hill from Mesa, Arizona, USA to present the prestigious Rayner Medal Lecture at the 40th Annual congress of the UKISCRS in London on the 21st of October 2016.
Dr. Hill is a well-recognised name in the field of intraocular lens power calculations and has made a tremendous contribution in this field. He has been instrumental in developing the American Society of Cataract and Refractive Surgery online calculator for calculating IOL power in eyes with prior refractive surgery and the development of the new and exciting Hill – RBF formula for IOL power calculation based on artificial intelligence."
To mark this occasion Rayner National Sales Manager Richard Thompson had the privilege of presenting the Rayner medal to the renowned surgeon.
A highlight in the Education Program, the Rayner Medal Lecture is an important link between Rayner and UKISCRS. In 1978 the UK Intraocular Implant Society (UKIIS) – the forerunner to the UKISCRS – invited Rayner to sponsor a special lecture to be given every two years at a Society meeting. The Rayner Medal Lecture is one of three prestigious Medal Lectures: the other two being the Choyce Medal Lecture and Pearce Medal Lecture, each of which throughout the years have been presented by many of the world's leading authorities on intraocular lenses and other aspects of cataract and refractive surgery.
Dr Warren Hill joins an illustrious group; the Rayner Medalists of previous years are as follows:
1979 Miles A Galin
1980 Neil L Dallas
1982 Robert C Drews
1984 Michael J Roper-Hall
1986 Jan G F Worst
1988 John Marshall
1990 Christophe Huber
1992 George Waring III
1994 Robert Osher
1996 I. Howard Fine
1998 Douglas Koch
2000 David J. Apple
2002 Jorge Alio
2004 Marguerite McDonald
2006 Steve Arshinoff
2008 José L. Güell
2010 Mr D F Chang
2012 Mr R Zaldivar
2014 Harminder Singh Dua
Warren E. Hill MD, FACS
Warren E Hill is the Medical Director of East Valley Ophthalmology in Mesa, Arizona. He has delivered more than 550 presentations to ophthalmic societies both in the United States and internationally in 36 countries and on six continents. Other career highlights include:
• 117 Publications
• 21 Eponymous Lectures
• American College of Surgeons Fellow
• American College of Eye Surgeons Fellow
• American Academy of Ophthalmology Fellow
• International College of Surgeons Fellow
• American Board of Eye Surgery Board of Directors
• International Intra-Ocular Implant Club Member
• American Society of Cataract and Refractive Surgery Member
• Arizona Ophthalmological Society Member
• Phoenix Ophthalmological Society Member
Warren Hill has been a Consultation Section contributor and article reviewer for the Journal of Cataract and Refractive Surgery, Ophthalmology, the British Journal of Ophthalmology, the Journal of Refractive Surgery, and the British on-line journal BMC Ophthalmology.
For a full profile of Warren Hill please click here 
Share this article