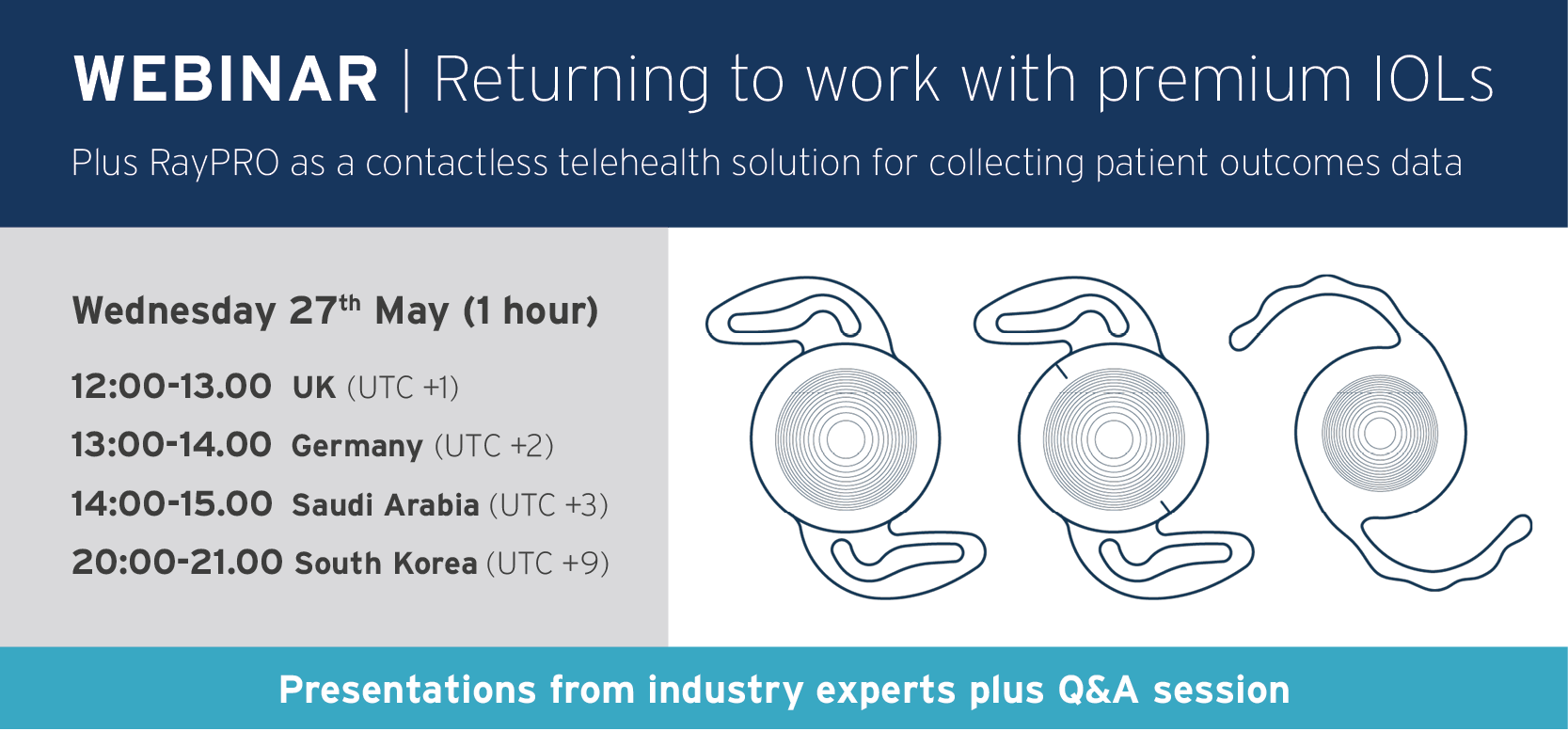 WEBINAR | Returning to work with premium IOLs
Posted on 22/05/2020
Wednesday 27th May (1 hour)
Join an international panel of expert speakers as they share their experiences with premium trifocal intraocular lenses (IOLs), and discuss the importance of Patient Reported Outcomes (PROs). The speakers will also talk about returning to clinic after COVID-19.
The webinar will last 1 hour (includes 15-minute Question & Answer session).
12:00-13.00 UK (UTC +1)
13:00-14.00 Germany (UTC +2)
14:00-15.00 Saudi Arabia (UTC +3)
20:00-21.00 South Korea (UTC +9)
Topics and speakers:
Mr Allon Barsam, MA, MB, BS, FRCOphth (UK)
Patient selection criteria, trifocal IOL tips and tricks, my experience with RayOne Trifocal and RayOne Trifocal Toric IOLs.
Professor Michael Amon, MD (Austria)
Introduction to the Sulcoflex Trifocal supplementary IOL, wider patient selection with the DUET procedure, and my clinical outcomes.
Mr Andrew Morris, BSc, MBBS, FRCOPhth (UK)
The importance of Patient Reported Outcomes (PROs) and RayPRO as a contactless telehealth solution after COVID-19.
Webinar registration: https://zoom.us/webinar/register/WN_HQM8Rgz7RrOklnixB16xOg
For more information, please visit:
– Trifocal IOLs www.staging.rayner.com/trifocal
– RayPRO www.staging.rayner.com/raypro
Share this article