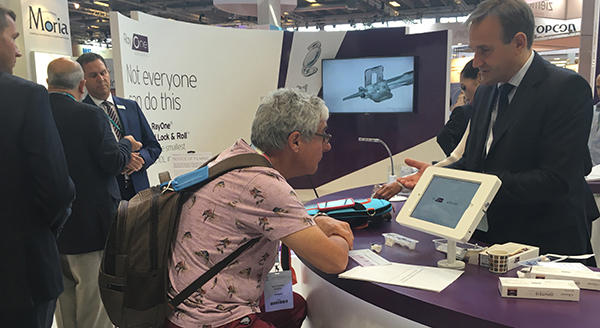 The global launch of RayOne: Over 320 surgeons participate in product demonstrations.
Posted on 20/09/2016
The new-look Rayner booth — designed specifically with RayOne demos in mind — was inundated with traffic. Surgeons clamored to experience the highly anticipated, fully preloaded IOL injection system at the recent XXXIV Congress of European Society of Cataract and Refractive Surgeons in Copenhagen.
At times the booth was so busy that Rayner CEO, Tim Clover, assisted with demos as surgeon demand outstripped the supply of Rayner staff.
Tim Clover assists Australian Surgeon Dr Gary Schiller with a demonstration
A busy Rayner booth
Rayner's most entertaining product launch to date
To celebrate the launch, the playful campaign 'Not everyone can do this' was brought to life through having the contortionist from the ad give a series of performances on the Rayner booth; the fun and excitement not only attracting the attention of passers-by, but also reiterating the more serious message of RayOne's patented Lock & Roll Technology.
Commenting on the success of the launch, Head of Marketing Warwick Strand had the following to say: "With a system as easy to use as RayOne, it was clear that product trial would play a leading role in the launch. However, in order to give this product the launch it truly deserves, we wanted to have some fun as well. The amount of leads recorded and activity on social media would suggest we achieved our objective."
Commitment to education
Also supporting the RayOne launch, Rayner sponsored a satellite symposium 'Outcome Excellence in Cataract Surgery', a compelling topic which was explored through the following presentations:
Dr Steve Arshinoff (Moderator)(Canada): OVD Management: A Lesson in Form and Flow
  
Mr Sathish Srinivasan (United Kingdom): Corneal Integrity: Early Clinical Results from
a New Class of OVD
Mr Mayank Nanavaty (United Kingdom): Advances in Outcomes and Efficiencies:
Introducing RayOne
 
The educational event attracted a great delegate turnout and the content did not disappoint, with the Q&A session at the end generating lively debate and knowledge-sharing.
 For highlights from the launch event please view the Rayner Twitter account here
 To learn more about RayOne please read the Press Release here or information about the RayOne Aspheric system can be found here
Not all Rayner products are approved for sale in every country. Please contact your local Rayner distributor for details of which products are available in your area.
©2016 Rayner Intraocular Lenses Limited. RayOneis a registered mark of Rayner.
EC 201688
Share this article