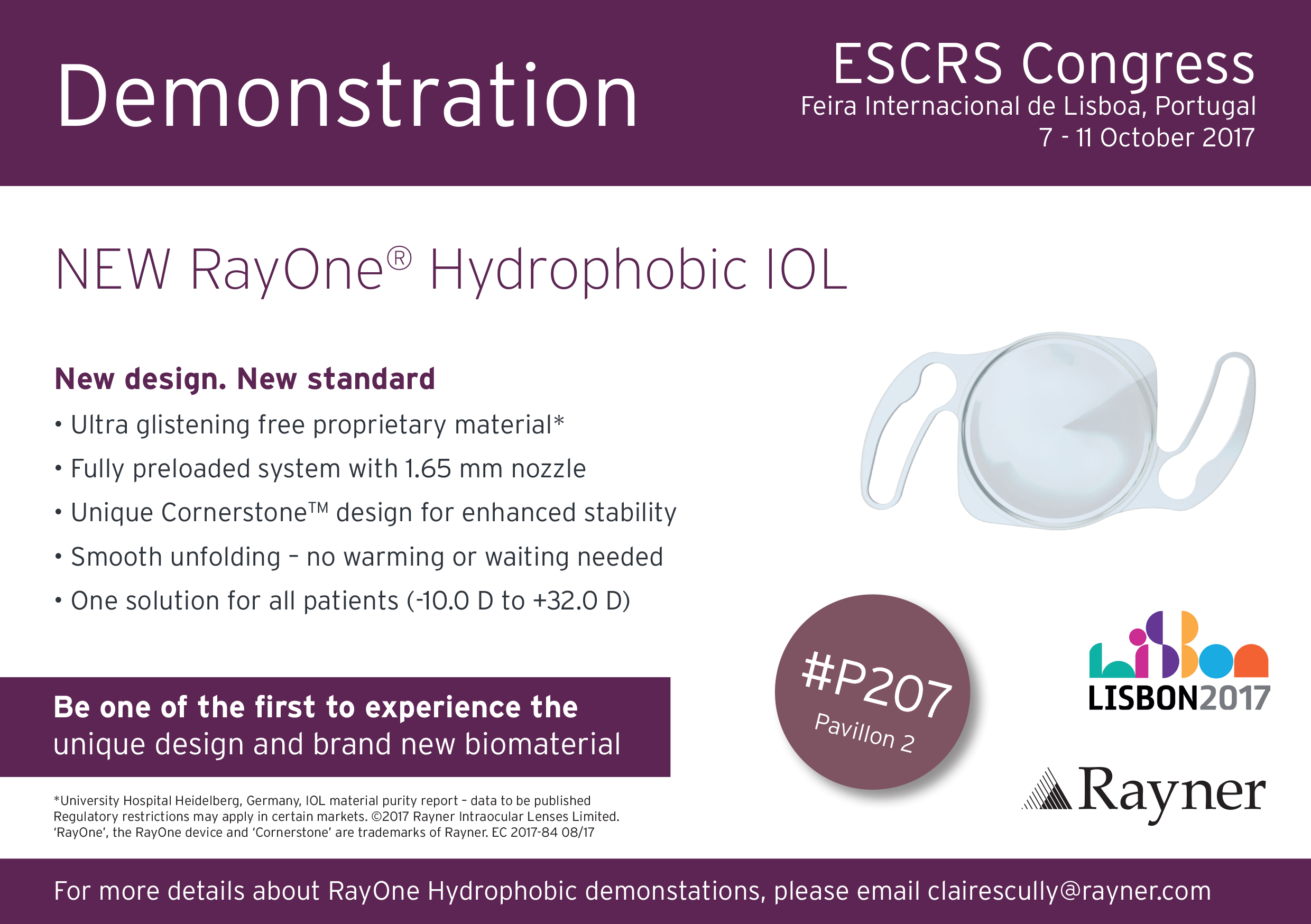 New product demonstrations, launches and presentations at the 2017 ESCRS in Lisbon.
Posted on 26/09/2017
Rayner announced today it's schedule of events and opportunities for surgeons during the upcoming ESCRS Congress, on the Rayner booth #P207 (Pavilion 2), which includes the launch of the RayOne Trifocal IOL and a preview of the RayOne Hydrophobic IOL.
Demonstrate RayOne Hydrophobic
The highly-anticipated launch of RayOne Hydrophobic IOL (expected availability from early 2018) marks a defining moment for Rayner; the hydrophobic acrylic lens will be available in the RayOne fully preloaded system, and it's designed to eliminate the compromises that surgeons have had to put up with – until now.
As part of Rayner's preview at the ESCRS, surgeons can take part in hands-on demonstrations of the RayOne Hydrophobic, showcasing its unique design and brand-new biomaterial, delivered in a market-leading micro-incision injection system. See below for full event details.

New RayOne Trifocal: First Implantation Surgeon Presentations on the Rayner Booth
See what some of the industry's biggest and most respected names have to say about their experience and outcomes as the first implanters of the RayOneTrifocal IOL at the 2017 ESCRS Congress:

Session 1: Saturday 7th October, 15:00 – 16: 00: Joaquín Fernández (SPAIN), Tiago Ferreira (Portugal), Michael Amon (Austria)
Session 2: Sunday 8th October, 15:00 – 16:00: Oliver Findl (AUSTRIA), Allon Barsam (UK)
Location: Rayner booth (#P207, Pavillion 2)
Venue: Feira Internacional de Lisboa, Portugal
Join us for drinks on the Rayner booth (#P207) at the ESCRS Congress in Lisbon to hear about our new patented diffractive step trifocal design that reduces light loss to only 11 %.
Whether you are curious to learn more about the unique Cornerstone design of RayOne Hydrophobic or you want to know the one-month follow-up data for the new RayOne Trifocal, make sure you visit the Rayner booth this ESCRS!
Share this article