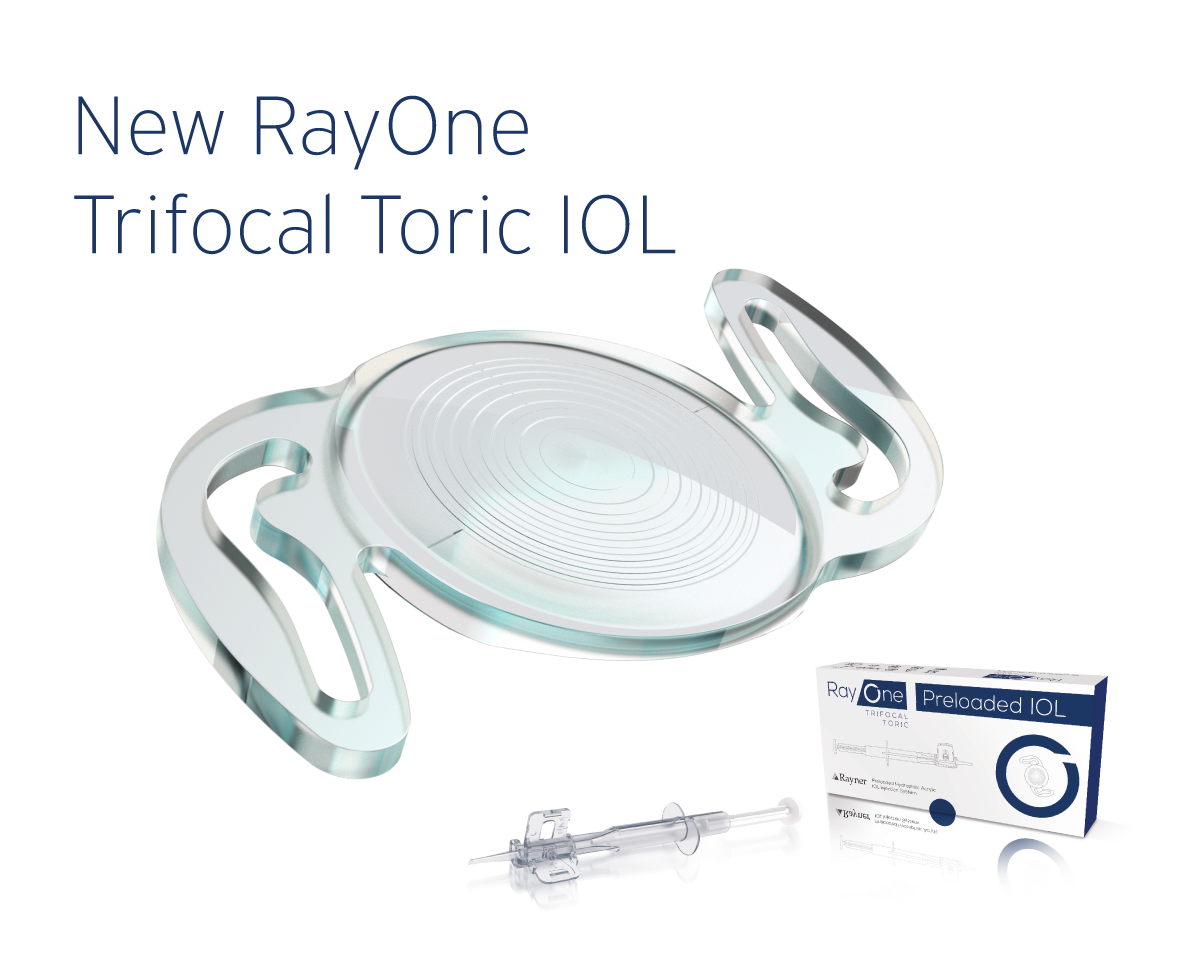 Rayner launching RayOne Trifocal Toric at ESCRS to complete its trifocal IOL family
Posted on 11/09/2019
Rayner will offer the most complete family of trifocal IOLs in the industry, allowing surgeons to treat an even wider range of presbyopic patients: Sulcoflex Trifocal, RayOne Trifocal and new RayOne Trifocal Toric.
High patient satisfaction and spectacle independence reported from a multicentre pilot study.
RayOne Trifocal Toric's cylinder range starts from +0.75 D, allowing more patients to benefit from astigmatism correction than other trifocal toric IOL solutions.
Worthing (UK), 11th September 2019 – Rayner will launch its RayOne Trifocal Toric fully preloaded IOL at the upcoming ESCRS 2019 congress in Paris from 14th-18th September, completing its innovative family of trifocal IOLs.
With industry-leading 11% light loss from its patented diffractive design, RayOne Trifocal Toric will give cataract patients with varying degrees of preoperative corneal astigmatism the opportunity to become spectacle independent. RayOne Trifocal Toric complements RayOne Trifocal, launched at ESCRS 2017, which has since gained worldwide praise from surgeons for its predictive refractive outcomes combined with easy-to-use fully preloaded injector.
"At Rayner, we only focus on visual outcomes and aim to offer the best. Our trifocal technology has become the lens of choice for many surgeons thanks to its low light loss and reduced dysphotopsia. The missing piece of the jigsaw has been to have the same tried and tested technology for astigmatic patients. I'm thrilled that we will be launching RayOne Trifocal Toric at ESCRS 2019, completing our range of trifocal solutions and enabling surgeons to offer spectacle independence to more of their patients", said Tim Clover, Rayner CEO.
Early clinical results
Mr Allon Barsam, Medical Director and Founder of Ophthalmic Consultants of London (UK) implanted the world's first RayOne Trifocal Toric on the 15th July 2019. He states, "it is great to be the first centre in the world to implant Rayner's latest high technology offering. Ethical innovation requires a careful balance ensuring patients have access to the latest and also safest technology once thorough R&D has been completed. Hugely grateful to be able to stand on the shoulders of giants and play a small role in this story."
A multicentre pilot study across Japan, Germany and UK reports high patient satisfaction, spectacle independence at all distances and high cylinder reduction after the first week. The uncorrected distance visual acuity was reported as 0.00 ± 0.09, intermediate at -0.03 ± 0.05 and near at 0.05 ± 0.05. All surgeons involved in the study reported a high level of product satisfaction.
Mr Vinod Gangwani, Consultant Ophthalmic Surgeon at Ashford and St Peter's hospital NHS Foundation Trust (UK) said, "having regularly used the RayOne Trifocal with excellent results, there was always a limitation on my patients with astigmatism. I have been using trifocal toric IOLs from other reputed providers, but was never comfortable with the injector systems, which are very cumbersome to use. RayOne Trifocal Toric is preloaded in the best injector system and provides excellent vision at all distances. This lens completes the portfolio for my patients seeking spectacle independence."
Proven haptic technology for excellent stability
Just one degree of misalignment results in ~3.5% loss of cylindrical correction and 10 degrees results in more than 34%1, affecting patient outcomes and causing photopic disturbances. Rayner's anti-vaulting haptic technology provides excellent fixation in the capsular bag:
Superb centration – average offset of only 0.08 mm 3 to 6 months after surgery2
Excellent rotational and torsional stability – 1.83° mean IOL rotation 3 to 6 months after surgery2
Fully preloaded across the entire power range
RayOne Trifocal Toric benefits from the same fully preloaded injector as the other IOLs in the RayOne family, with a true two-step system for ease of use and efficient IOL delivery time2.
The smallest injector nozzle tip of 1.65 mm is combined with Rayner's patented Lock & Roll technology for a smooth and consistent sub-2.2 mm IOL delivery.
RayOne Trifocal Toric is available fully preloaded in a wide power range from +6.0 D SE to +30.0 D SE, with cylinders of +0.75 D to +4.5 D in 0.75 D increments.
"The launch of the new RayOne Trifocal Toric system is the successful culmination of Rayner innovation and product development across a wide range of disciplines, including advanced optics, IOL mechanics, biocompatible materials, preloaded micro-incision injection systems and manufacturing technology. We have put together an outstanding technical team across all areas of the business and with a great pipeline of next-generation products already under development, we look forward to many more exciting launches in the coming years", said Nat Davies, Rayner R&D Director.
RayOne Trifocal Toric will be available to all countries that accept CE marking, plus Australia and Brazil, from 14th September 2019.
For more information about RayOne Trifocal Toric: staging.rayner.com/en/iol/multifocal/rayone-trifocal-toric/
Visit Rayner at ESCRS 2019 (booth F122), learn more at staging.rayner.com/escrs-2019/
ENDS
About Rayner
Rayner is a leading developer and manufacturer of ophthalmic implants and pharmaceuticals. When Sir Harold Ridley designed the world's first IOL in 1949, he chose Rayner to manufacture this ground-breaking invention. With 70 years of continuous growth and experience, Rayner remains at the forefront of innovation. Rayner is focused on providing the best visual outcomes for clinicians and patients, driven by science to improve performance and safety.
Headquartered in Worthing, United Kingdom, Rayner markets its IOL portfolio and related products worldwide in over 80 countries through a network of distributors and includes direct sales teams in the United Kingdom, USA, Germany & Austria, Italy, Spain and Portugal. Not all Rayner products are approved for sale in every country.
For general enquiries or to arrange an interview please contact: iol_enquiries@rayner.com
www.linkedin.com/company/rayner-iol
Ma JJ, et al. J Cataract Refract Surg. 2008;34:1631-6.
Bhogal-Bhamra GK et al. Journal of Refractive Surgery. 2019;35(1):48-53.
Nanavaty MA and Kubrak-Kisza M. J Cataract Refract Surg. 2017 Apr;43(4):558-563.
Share this article