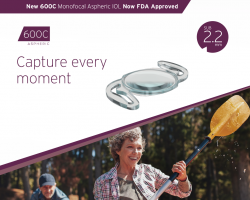 Rayner set to launch 600C Monofocal Aspheric IOL in America at ASCRS
Posted on 10/04/2018
Rayner has announced the launch of the 600C Aspheric IOL. The 600C Aspheric IOL will be unveiled at the upcoming 2018 ASCRS conference in Washington, DC, 13-17 April, and product availability will begin following the conference.
Built on the clinically-proven Rayner Primary IOL Platform, the 600C Aspheric is a hydrophilic acrylic aspheric monofocal IOL with Rayner's Amon-Apple 360° enhanced square edge. Soon to be available in the USA, Rayner's global 6.0 mm lens design offers surgeons a sub-2.2 mm incision IOL for minimal wound damage and surgically-induced astigmatism (SIA), whilst retaining the optical performance of its predecessor, the Rayner C-flex.
The Rayner 600C Aspheric lens is also aberration neutral, allowing patients to benefit from the natural residual positive aberration of the cornea. 600C Aspheric is available across the full power range (+8.0 D to +34.0 D).
Milestone achievements in the USA
"Following on from the establishment of our New York based subsidiary, Rayner Surgical Inc., we are delighted to introduce Rayner's latest lens platform, the 600C Aspheric. After celebrating the ten year anniversary of C-flex at the ASCRS congress last year and the opening of the New York office, we can now build on that momentum, showcasing Rayner's latest FDA-approved IOL at the upcoming congress in Washington. Since the OUS launch of the 600C Aspheric in 2016, the product has performed exceptionally well.  We look forward to having US surgeons try the latest offering from the manufacturer of the world's first IOL, at the 2018 ASCRS congress in April" James Crutchlow, Director of North America, said.
Launch event: Find out more at ASCRS 2018
Surgeons are invited to join Rayner at their booth (#1522) on Sunday, April 15th at 3:00pm for a champagne reception celebrating the launch of the new Rayner 600C Aspheric. There will also be the opportunity to discuss the new technology in greater detail with Rayner staff throughout the exhibition.
Share this article