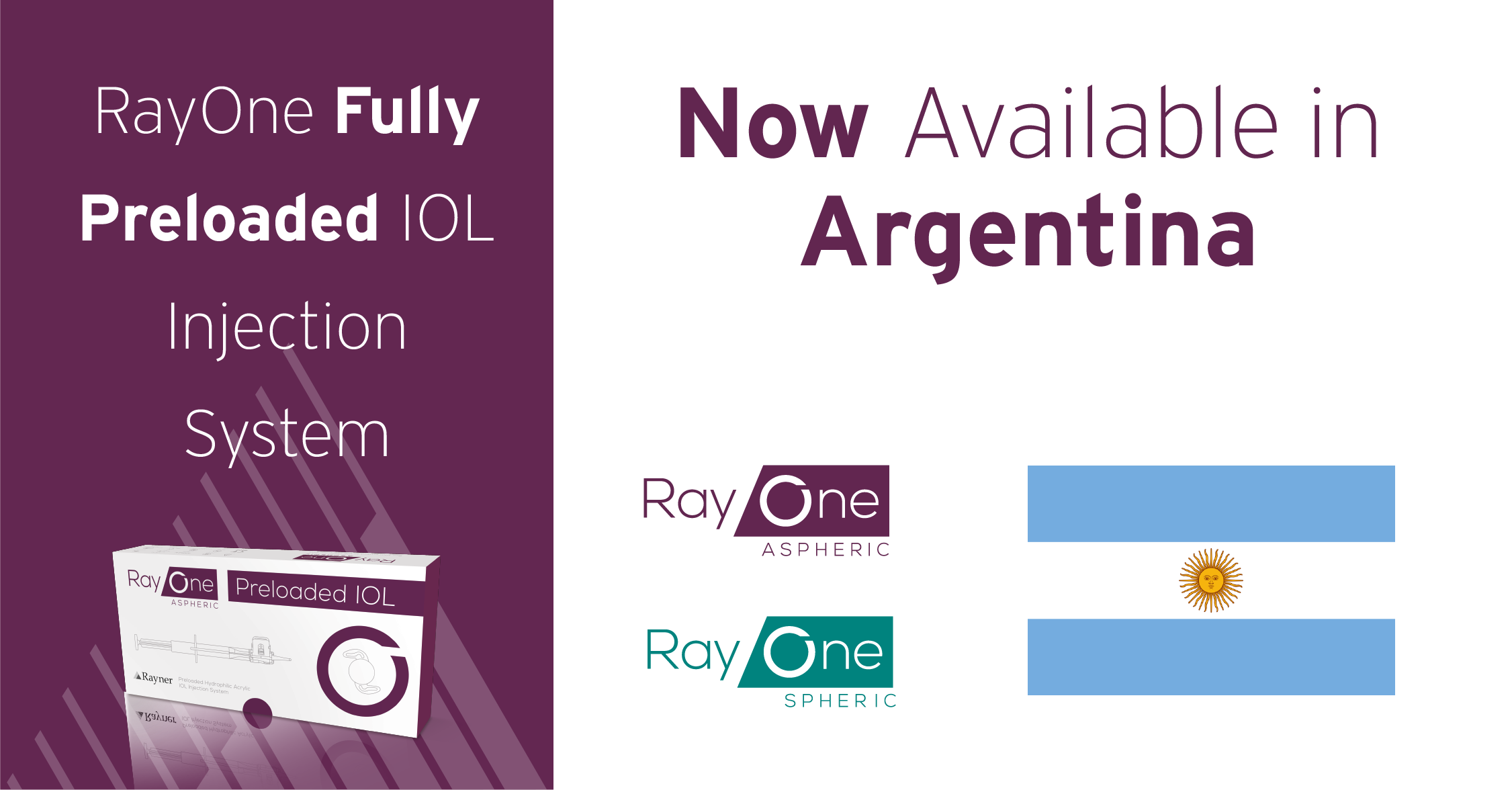 RayOne Fully Preloaded IOL injection system now available in Argentina
Posted on 5/03/2018
For immediate release.
Date: 05 March, 2018.
RayOne Fully Preloaded IOL injection system now available in Argentina
Rayner, together with Iskowitz – Rayner's exclusive distributor in Argentina — announced today that the RayOne fully preloaded IOL injection system has received approval from the Argentine regulator, 'Administración Nacional de Medicamentos, Alimentos y Tecnología Médica' (ANMAT), and is now available for commercial use.
Product approval details
ANMAT granted regulatory approval and sale of the RayOne aberration-neutral Aspheric (RAO600C) and the RayOne Spheric (RAO100C) for the full power range:
• -10.0 D to +34.0 D (including plano) (both models)
Dr Facundo Rodriguez Saudel of the Clinica De Ojos, Córdoba, said:
"We want to thank Mr. Dominic Batt [Rayner International Business Manager, Latin America] for visiting us and allowing us to be at the forefront of ophthalmology through using the first RayOne Aspheric [in Argentina]. Our two patients are very satisfied with their procedure. Both with 20/20 vision ranges without correction and very grateful to have received such quality implanted intraocular lenses… I have no words, only joys and thanks. I now eagerly await the launch of RayOne Trifocal!"
About RayOne
Lens and injector designed as one to create the smallest fully preloaded IOL incision
Rayner developed their new MICS lens and fully preloaded IOL injection system with patented Lock & Roll technology as part of the same design process. This combination has resulted in the smallest fully preloaded injector nozzle available.
Lock & Roll technology rolls the lens to under half its size in one simple action, allowing the lens to pass smoothly though the fully enclosed cartridge, without the need for lens handling. This minimises insertion force and enables a consistently smoother delivery.
Enhanced 6.0 mm optic, retaining proven stability and optical performance of existing platform
The RayOne MICS lens is an enhanced version of the tried-and-tested C-flex and Superflex platforms, combined into a single 6.0 mm optic design. The material and design benefits of the original lenses have been retained, without compromising on proven stability or optical performance. This new RayOne platform will be the base for the next generation of Rayner IOLs.
What does this all mean for cataract & refractive surgeons?
RayOne offers an injector which delivers the IOL consistently, with expert control, through a micro incision with minimal wound stretch, including patented Lock & Roll technology for the smallest fully preloaded IOL incision.
Rayner Vice President, International, Cary Dawes said: 'When we launched our RayOne fully preloaded IOL injection system at the 2016 ESCRS in Copenhagen, Argentina was one of the top five countries in terms of expressions of interest from surgeons. This shows us that there is a strong demand for this popular product in this market. Combined with the fact that Iskowitz has been Rayner's exclusive distributor for nearly 20 years and has done a phenomenal job in building the Rayner brand in Argentina, I am extremely confident that we will have a strong local launch. These solid foundations also place us in a desirable position as we then go on to introduce more members of the RayOne family into Argentina.'
Iskowitz CEO, Matias Iskowitz, said 'We are glad to celebrate our 20th anniversary partnership with Rayner by launching the best preloaded IOL system in the world. In 2018 we will have the chance to show the company´s latest developments to the whole ophthalmic community in Argentina, who has always been delighted by Rayner´s quality. We are also happy to announce that we expect to launch the following members of the RayOne family – RayOne Trifocal, RayOne Toric and RayOne Hydrophobic – later this year"
Rayner legacy product availability in Argentina
In addition to the RayOne Aspheric and Spheric monofocal fully preloaded system, Rayner's product portfolio in Argentina comprises the following products:
Manually loaded primary IOLs
– C-flex Aspheric Monofocal
– Superflex Aspheric Monofocal
– M-flex Multifocal
– M-flex T Multifocal Toric
– T-flex Aspheric Toric
Manually loaded supplementary IOLs
– Sulcoflex Aspheric
– Sulcoflex Multifocal
– Sulcoflex Toric
– Sulcoflex Multifocal Toric
RayOne global availability
The new technology is already available in over 60 countries covering Europe, the Middle East, Latin America and Asia Pacific.
Please contact your local Rayner distributor to find out details of RayOne availability in your market.
For more information about RayOne please click here.
To view the latest scientific paper on RayOne please click here.
Share this article