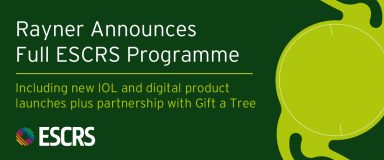 Science and Sustainability. Rayner announces ESCRS 2022 programme with a pledge to reduce carbon footprint
Posted on 30/08/2022
Rayner sponsors ESCRS satellite symposium
When: Sunday 18th September, 13.00-14.00
Where: Room Blue 2
Professor Oliver Findl (Austria), Professor Gerd Auffarth (Germany), Mr Allon Barsam (United Kingdom), Dr Başak Bostanci (Turkey) and Dr Tiago Ferreira (Portugal) complete the panel of surgeons for the Rayner-sponsored satellite symposium: Challenges in cataract surgery and advanced technology IOL solutions.
To see the full symposium agenda, click here (page 5).
---
Podium presentations and posters: Schedule of Rayner scientific sessions
With 29 accepted abstracts, covering 8 products across 13 countries, view Rayner's complete scientific programme here for full details on when and where surgeons will be presenting their posters and free papers on a range of premium solutions across Rayner's portfolio.
---
Celebrating the 15-year anniversary of Sulcoflex: Rayner hosts drinks reception
When: Saturday 17th September, 15:00-16:00
Where: Rayner booth (C 11, Hall 4)
Join Professor Michael Amon, inventor of the Sulcoflex supplementary IOL, and Rayner CEO, Tim Clover, for a glass of prosecco and slice of cake as Rayner toasts to 15 years of Sulcoflex.
---
Rayner showcases expanded portfolio: RayOne EMV Toric and RayPRO+
Rayner are proud to announce the launch of RayOne EMV Toric; an extension of the popular RayOne EMV enhanced monofocal IOL designed in collaboration with Professor Graham Barrett and launched in 2020. RayOne EMV Toric enables surgeons to now offer patients >1.5 D of high-quality natural vision with the added benefit of corneal astigmatism correction.
In response to market feedback, RayPRO (Rayner's dedicated mobile and web-based digital platform which collects insightful Patient Reported Outcomes (PROs) over three years) is now available in a tiered subscription format through the addition of RayPRO+, giving surgeons the option to now collect PROs data for all their IOLs.
Surgeons are invited to visit the Rayner booth (hall 4, stand: C11) to learn more about RayOne EMV Toric and RayPRO+.
---
Rayner pledges support to the ESCRS 2022 Congress 'Mission Zero' commitment by partnering with Gift a Tree
In addition to going fully paperless at the ESCRS congress and making extensive efforts to comply with recommendations from the ESCRS Sustainable Exhibiting Guide, Rayner want to take the sustainability message to the next level. To develop this idea, Rayner has partnered with Gift a Tree, who are dedicated to tree planting worldwide to generate new woodlands and forests.
"Rayner's pledge to plant a tree for every lead generated at the ESCRS congress is a wonderful example of a company putting its position of influence and visibility to good use. We have every confidence that this partnership will not only have the apparent immediate benefits, but through making it easy for surgeons to take a positive action towards climate change, this typically has a knock-on effect and encourages more environmental action", said Andy Fields, Director at Gift a Tree.
To find out more or to give the gift of a tree, click here.
Generate a lead — plant a tree — reverse climate change — save the planet.
[ENDS]
---
About Rayner
Since the implantation of the first Rayner intraocular lens by Sir Harold Ridley 1949, Rayner has continuously pioneered intraocular lens (IOL) design with a goal to improve vision and restore sight worldwide. Today, Rayner's mission remains to deliver innovative and clinically superior ophthalmic products that respond to the expectations of our global customers to improve the sight and quality of life of their patients.
Headquartered in Worthing, United Kingdom, Rayner markets its medical devices, pharmaceuticals and digital solutions worldwide in over 80 countries through a network of distributors and includes direct sales teams in the United Kingdom, USA, Canada, India, Poland, Australia, Germany, Austria, Switzerland, France, Italy, Spain and Portugal.
For further information and media enquiries, please contact Rayner: marketingteam@rayner.com
Not all Rayner products are approved for sale in every country. Please contact your local Rayner distributor for details of which products are available in your area.
©2022 Rayner, all rights reserved. Rayner, RayOne, Sulcoflex and RayPRO are proprietary marks of Rayner. All other trademarks are property of their respective owners. Rayner, 10 Dominion Way, Worthing, West Sussex, BN14 8AQ. Registered in England: 615539. EC 2022-202
Share this article