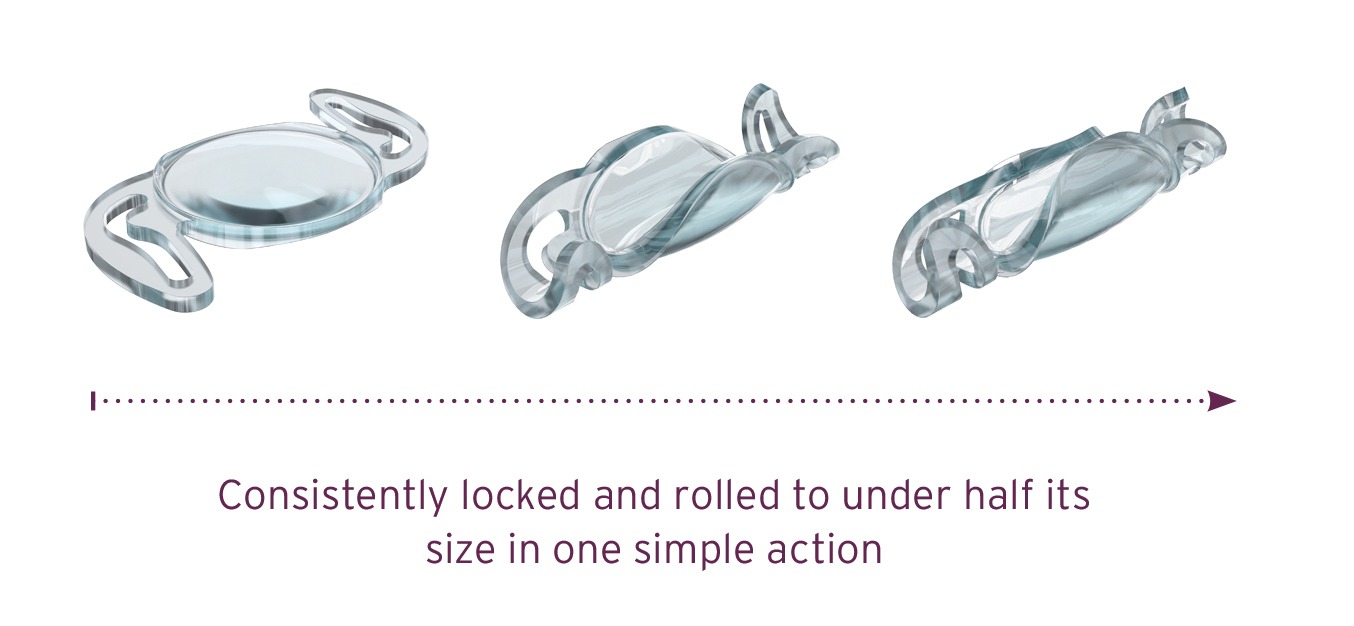 The smallest Fully Preloaded IOL incision. Rayner set to launch RayOne at the upcoming ESCRS.
Posted on 1/09/2016
For immediate release.
Date: 1st September, 2016

The Smallest Fully Preloaded IOL Incision. Rayner set to launch RayOne at the Upcoming ESCRS
Following the recent receipt of CE mark approval, Rayner are proud to announce the launch of RayOne: their fully preloaded IOL injection system to be unveiled at the upcoming ESCRS in Copenhagen.
This flagship launch is the second in the pipeline of 11 new products which Rayner plan to launch over the next three years, a testament to Rayner's renewed commitment to transform into one of the leading manufacturers of IOLs, all with the ambition of delivering better patient outcomes.
Lens and injector designed as one to create the smallest fully preloaded IOL incision
When creating the RayOne system, Rayner developed their new MICS lens and fully preloaded IOL injection system with patented Lock & Roll technology as part of the same design process. This combination has resulted in the smallest fully preloaded injector nozzle available. The nozzle is parallel-sided for minimal stretch, helping to maintain incision architecture.
Lock & Roll technology rolls the lens to under half its size in one simple action, allowing the lens to pass smoothly though the fully enclosed cartridge, without the need for lens handling. This minimises insertion force and enables a consistently smoother delivery.
Enhanced 6.0 mm optic, retaining proven stability and optical performance of existing platform
The new RayOne MICS lens is an enhanced version of the tried-and-tested C-flex and Superflex platforms, combined into a single 6.0 mm optic design. The material and design benefits of the original lenses have been retained, without compromising on proven stability or optical performance. This new RayOne platform will be the base for the next generation of Rayner IOLs.
One system for all patients with the largest fully preloaded power range
The RayOne system is available in both spheric and aberration-neutral aspheric optics, from -10.0 to +34.0 Dioptres.
What does this all mean for our surgeons?
RayOne offers an injector which delivers the IOL consistently, with expert control, through a micro incision with minimal wound stretch, including patented Lock & Roll technology for the smallest fully preloaded IOL incision.
Find out more at ESCRS
Surgeons are invited to join Rayner on their booth C413, Hall C at ESCRS 2016, in Copenhagen between the 9th- 14th September 2016. There will be an exciting RayOne launch event taking place throughout the exhibition.
Media interviews can also be arranged with Tim Clover (CEO) and Andrew Webb (Global Vice President, Commercial). Please contact Tim Brown timbrown@rayner.com with any questions about the RayOnelaunch or to arrange an interview.
[ENDS]
About Rayner
Rayner designs and manufactures intraocular lenses (IOLs) and proprietary injection devices for use in cataract surgery. As the first manufacturer of the IOL, we have been working with surgeons for longer than anyone.
Today, we exist to enable surgeons to focus on what matters: improving patients' sight. We aim to remain at the forefront of innovation, developing clinically superior ophthalmic tools that aid and streamline the surgical process, with the ultimate objective of improving sight and quality of life.
Rayner markets its IOL portfolio and related products worldwide through a network of distributors in over 80 countries and a direct sales team in the United Kingdom, USA, Germany & Austria, Italy and Spain.
For general enquiries, please contact Rayner: iol_enquiries@rayner.com
Not all Rayner products are approved for sale in every country. Please contact your local Rayner distributor for details of which products are available in your area.
©2016 Rayner Intraocular Lenses Limited. C-flex, Superflex and RayOne are registered trademarks of Rayner. EC201673.
Share this article