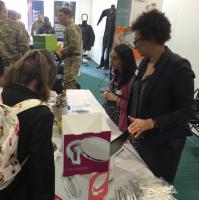 A wider purpose; Rayner supports the next generation of scientists and engineers
Posted on 16/03/2016
With the aim of encouraging local school children to pursue careers in the field of science and engineering, the Human Resource department at Rayner have been busy taking part in the 2016 Coastal STEMfest, a campaign which consisted of interactive demonstrations, workshops and roadshows so that local educational institutions could link with over 90 science, technology, engineering and mathematics (STEM) businesses.
Commenting on one initiative – The Big Bang at Butlins – one student had the following to say:
"The best thing about today was finding out about the different opportunities and things that you can do when you are older"
Rayner participated in the following STEMfest events:
Enterprise & Education networking event in Worthing, 3 February 2016
Sussex Chamber of Commerce 'Your Future' career day, 11 February 2016
Be the Change Conference, 26th February 2016
Big Bang @ Butlins STEM Programme, 3 March 2016
Each event was aimed at a different group of school children ranging from the very young students through to the teenage cohort of STEM students. One event focused on those who may be disengaged at school so as to shed light on the importance of individual qualities as well as qualifications.
HR Manager Louise Burgess had the following to say about the campaign, "Our CFO recently raised awareness about our programme to get more people — particularly girls — interested in science [Rayner CFO Darren Millington's interview in the Worthing Herald can be found here]. As an HR Team we were keen to follow this up and get involved in a number of events over the last couple of months to enable the Rayner name to be promoted further in the local community, especially with children considering their career options for the future. This is a fantastic opportunity for us as a HR Team to be involved in, and have a better understanding of, the business."
Share this article