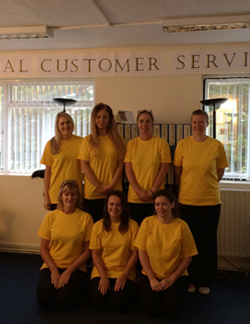 Customer service in focus at Rayner
Posted on 14/10/2015
Enhancing the customer journey was a strong motivation for the transformation of Rayner's Customer Service function over the last 12 months, so the recent 'National Customer Service Week' official event provided an excellent opportunity for the new team to show the rest of the Company what they're doing to improve customer satisfaction.
Staff from various departments across the business were invited to spend an afternoon 'in the shoes of a Rayner Customer Service Team member'. Representatives from Marketing, Regulatory, Finance and Human Resources – even the company CFO Darren Millington – immersed themselves in one of the key customer service roles and processed an IOL order from 'order received,' through to picking and then shipment. The posts around these activities received strong engagement on the company's Twitter feed!
'In addition to showing staff 'what we do', we also wanted to use the opportunity to encourage Rayner staff to think about their own role, and what they can do to improve customer satisfaction. Customer Service is at its best when there is strong team work not only within the Customer Service Department but with the surrounding departments as well, as all parts of the business affect the Customer Service experience,' commented Sue Wheatley, Customer Service Manager at Rayner.
In a global, fast-paced business like Rayner, a cohesive and capable Customer Service Team is crucial. The Customer Service Team did an impressive job of demonstrating that the Customer is at the heart of everything they do, through every step of the Rayner journey.
If you have any feedback about your Rayner Customer Service experience, we would love to hear from you: iol_enquiries@rayner.com
Rayner Customer Service Team ready for National Customer Service Week
Andrew Webb (Global Vice President, Commercial) and Juliette Cook (Quality and Regulatory Director) process an IOL order
CFO Darren Millington is shadowed by Warehouse Manager Dan Footit as he picks one of Rayner's Premium IOLs for an order
Marketing, Regulatory and Customer Service Staff working together
Regulatory Team Member Agnieszka Drzewiecka spends an afternoon working with Customer Services
Julie Pope (Warehouse Administrator) with an IOL order ready for shipment
Share this article