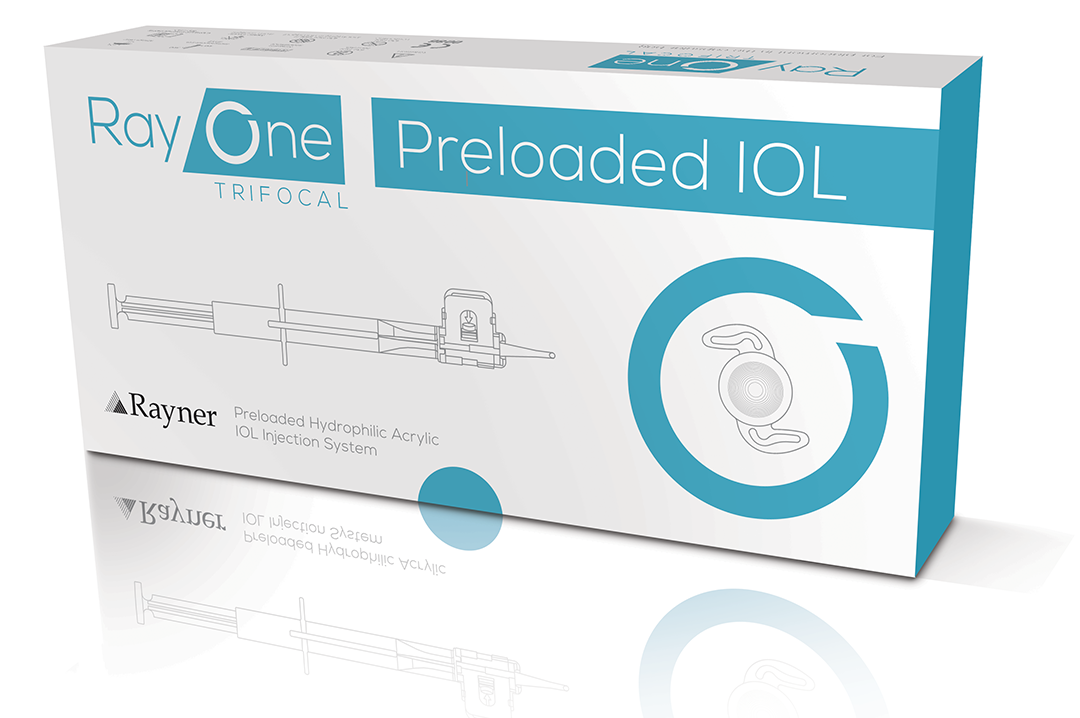 New patented Trifocal Technology. Rayner set to launch RayOne Trifocal at the upcoming ESCRS
Posted on 14/09/2017
For immediate release.
14 September, 2017. Rayner are proud to announce the launch of the newest member of the RayOne family of preloaded IOLs: the RayOne Trifocal, to be unveiled at the upcoming 2017 ESCRS conference in Lisbon.
Product availability will be from 9 October 2017 to all CE registered markets.
The most advanced lens design Rayner has ever produced.
Based on the proven, high performance Rayner 'closed loop' platform, the new diffractive technology of the RayOne Trifocal is the result of several years of development in partnership with a leading European Research Centre using advanced vision simulation technology. The resultant new patented diffractive trifocal profile reduces light loss to an industry leading 11 % and provides a smooth transition for the patient from near to intermediate and distance vision.
Pre-launch studies show promising results
Following CE mark approval earlier in 2017, Rayner conducted a multi-surgeon, multi-site evaluation study of the new Trifocal IOL across four European markets, with the first IOL implanted by Professor Oliver Findl of the Hanusch Hospital in Vienna.
"The early results from the RayOne Trifocal first implantations have demonstrated the exceptional light availability from the optic. The first month feedback demonstrates excellent intermediate visual acuity, enabling patients to feel more comfortable transitioning from near to distance activities whilst also reducing patients' reliance on glasses" said Warwick Strand, Rayner Marketing Director.
Listening to surgeons
Rayner prides itself on engaging surgeons at every stage of our product development. "We know that patient demand is growing for spectacle independence following cataract or presbyopia treatment which is highly demanding for surgeons. So as well as delivering what we consider to be the most advanced trifocal optic design it was important to us to provide this in a fully preloaded injector to eliminate the risk of lens handling and to ensure accurate, consistent placement through a 1.65 mm nozzle and to do so at a price which would make the technology accessible to a wider range of patients. We are very grateful to all our surgeon partners, university collaborators and team of dedicated engineers and scientists who have taken another step forward in IOL design." said Tim Clover, Rayner CEO.
Find out more at ESCRS
Surgeons are invited to join Rayner on their booth (P207) on Saturday 7th October and Sunday 8th October, 15:00 – 16:00, for presentations from the surgeons to first implant the RayOne Trifocal. There will also be the opportunity to discuss the new technology in greater detail with Rayner staff throughout the exhibition.
Media interviews can also be arranged with Tim Clover (CEO) and members of the Senior Management Team. Please contact Tim Brown  timbrown@rayner.com with any questions about the RayOneTrifocal launch or to arrange an interview.
[ENDS]
About Rayner
Rayner is a leading developer and manufacturer of ophthalmic implants and pharmaceuticals. When Sir Harold Ridley designed the world's first IOL in 1949, he chose Rayner to manufacture this ground-breaking invention.
With more than 65 years of continuous growth and experience, we remain at the forefront of innovation. We are focused on providing the best visual outcomes for clinicians and patients and are driven by science to improve performance and safety.
Headquartered in Worthing, United Kingdom, Rayner markets its IOL portfolio and related products worldwide in over 80 countries through a network of distributors and includes direct sales teams in the United Kingdom, USA, Germany & Austria, Italy, Spain and Portugal.
For general enquiries or to arrange an interview, please contact Rayner: iol_enquiries@rayner.com
Not all Rayner products are approved for sale in every country. Please contact your local Rayner distributor for details of which products are available in your area.
Share this article