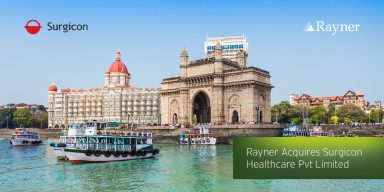 Rayner Acquires Surgicon Healthcare Pvt Limited
Posted on 18/06/2021
JUNE 18, 2021 – Worthing, United Kingdom. Rayner, the pioneering manufacturer of intraocular lenses for cataract and refractive surgery, announced today that it has acquired Surgicon Healthcare Pvt Limited in Mumbai, India.
The acquisition closed on Friday 18th June 2021.
Acquisition Details
Rayner has acquired its exclusive Indian distributor, Surgicon, for an undisclosed price. The acquisition enables Rayner to rapidly bring its strong pipeline of innovative intraocular lenses (IOLs), ophthalmic viscoelastic devices (OVDs) and dry eye drop solutions to surgeons and patients across India, and further develop its global presence.
Surgicon has been Rayner's trusted partner in India for over thirty years. Following the acquisition, Rayner plans to invest in the local commercial operation to significantly enhance sales and marketing resources, and to expand its portfolio of technology available to Indian surgeons.
Commenting on the acquisition, Rayner CEO, Tim Clover, remarked:
"India is the world's largest market for cataract surgeries, with eight million procedures performed every year. By having a direct presence in this important market, Rayner will be able to build on the relationships with surgeons developed by Rajesh and Surgicon over the past thirty years. We anticipate several important product launches later this year, offering Indian surgeons and patients access to the latest technology. I extend a special welcome to the Surgicon team and look forward to working with them over the coming years."
Rajesh Dave, Managing Director, Surgicon, said, "I am delighted that Surgicon and myself will be joining the Rayner group. I have personally worked with Rayner for over thirty years and have been impressed with its ambitions to grow internationally and develop new products. India and Great Britain have a rich history together and we are excited to strengthen our role in the important Indian ophthalmology market together.
Dr Ryan Dsouza, ophthalmic surgeon at The Center For Eye Diagnostics And Surgery (CEDS) in Mumbai commented, "Rayner intraocular lens technologies have been very popular and widely used in India for over three decades and the news that Rayner is now entering the market directly is very exciting. A strong bridge will be created between Rayner and the surgeons here in India."
END
About Rayner
Since the implantation of the first Rayner intraocular lens by Sir Harold Ridley 1949, Rayner has continuously pioneered intraocular lens (IOL) design with a goal to improve vision and restore sight worldwide. Today, Rayner's mission remains to deliver innovative and clinically superior ophthalmic products that respond to the expectations of our global customers to improve the sight and quality of life of their patients.
Headquartered in Worthing, United Kingdom, Rayner markets its IOL, OVD and dry eye portfolio, worldwide in over 80 countries through a network of distributors and includes direct sales teams in the United Kingdom, USA, Germany & Austria, Italy, Spain and Portugal.
About Surgicon
Since 1988, Surgicon has been dedicated to providing India with a range of high-quality ophthalmology products, particularly IOLs from Rayner.
For enquiries about the acquisition, please contact Rayner: marketingteam@rayner.com
Share this article