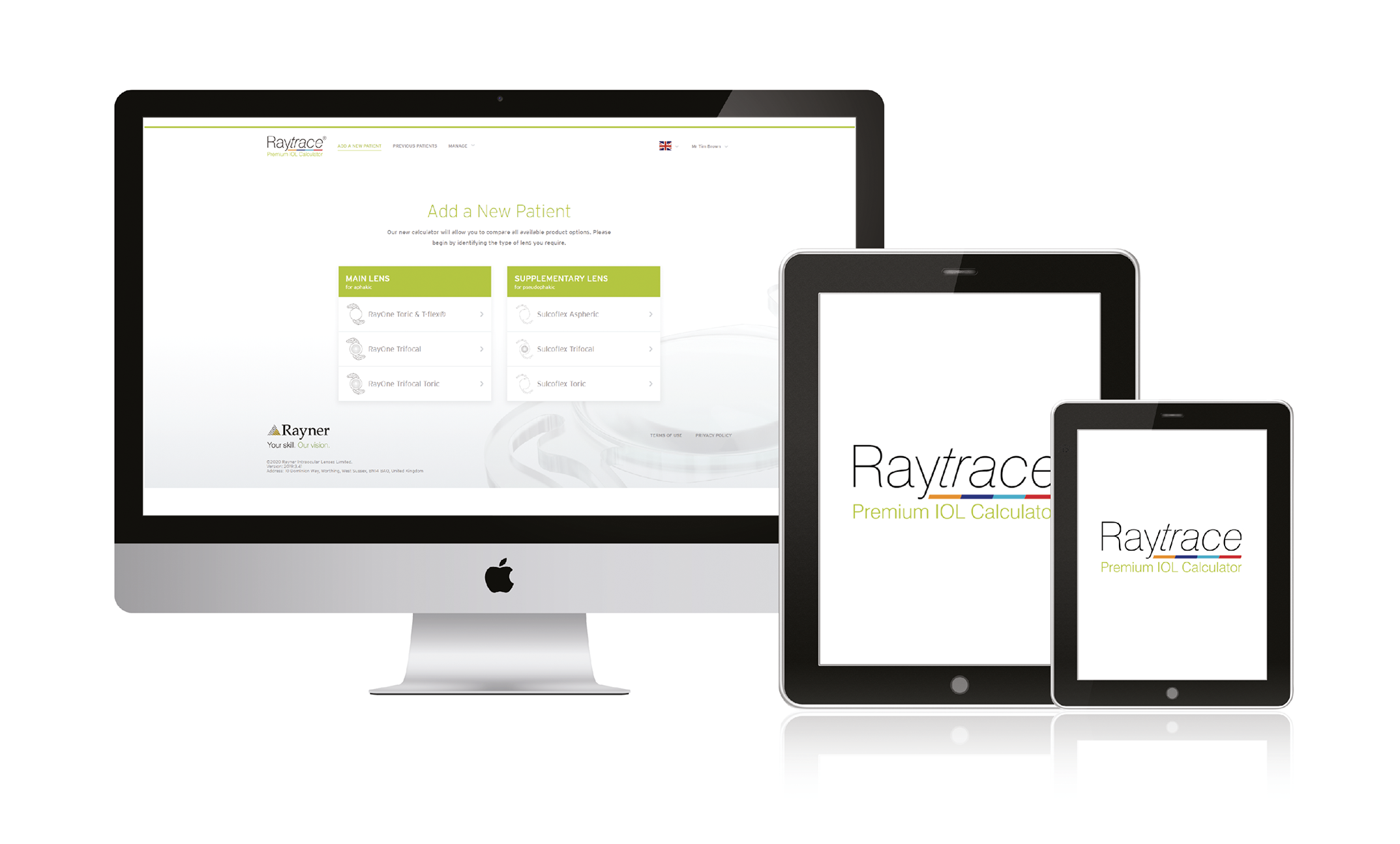 Rayner Launches Raytrace Premium IOL Calculator Update to Include Posterior Corneal Astigmatism
Posted on 22/10/2020
Worthing (UK) – Rayner, the manufacturer of the world's first intraocular lens (IOL) and winner of the 2020 Queen's Award for Enterprise (Innovation), announced today the launch of their updated web-based Premium IOL Calculator, Raytrace. Developed in line with surgeon feedback, the new Raytrace version 3.5 includes the following improvements:
Inclusion of Posterior Corneal Astigmatism (PCA) for more accurate toric IOL calculations
All biometric and IOL options now viewable on a single webpage for greater convenience
Addition of nominal values to compare with Raytrace results for verification
General usability improvements for an all-round smoother IOL calculation experience
Raytrace 3.5 will continue to provide surgeons with precise IOL calculations and provide targeted and effective visual outcomes for their patients, all in an upgraded, enhanced user interface.
Rayner VP International Sales, Mr Cary Dawes, said "We've always taken great pride in being one of the first companies to offer a Premium IOL calculator and now with the new ability to account for PCA in our IOL calculations, we're confident that this new version of Raytrace offers the best possible experience for surgeons. We have also made other amendments in the latest upgrade, based on customer feedback. Rayner is committed to constantly improving our portfolio of products and services across the patient pathway as part of our longstanding mission to deliver better patient outcomes."
Current Raytrace users will receive a communication detailing each of the IOL calculator improvements.
To access the latest and improved version of Raytrace visit: www.raytrace.staging.rayner.com/
About Rayner
Rayner designs and manufactures Intraocular Lenses (IOLs) as well as other ophthalmic solutions for use across the cataract patient clinical pathway. In partnership with Sir Harold Ridley, Rayner made the world's first intraocular lens in 1949.
With over 70 years of continuous growth and experience, we remain at the forefront of innovation. We are focussed on providing the best visual outcomes for clinicians and patients. We are driven by science to improve performance and safety.
Headquartered in Worthing, United Kingdom, Rayner markets its IOL portfolio and related products worldwide in over 80 countries through a network of distributors as well as direct sales teams in the United Kingdom, USA, Germany & Austria, Italy, Spain and Portugal.
For general enquiries or to arrange an interview, please contact Claire Scully, Global Marketing Communications Manager (ClaireScully@rayner.com).
Not all Rayner products are approved for sale in every country. Please contact your local Rayner distributor for details of which products are available in your area.
©2020 Rayner. Raytrace is a proprietary mark of Rayner. Rayner Intraocular Lenses Limited,
10 Dominion Way, Worthing, West Sussex, BN14 8AQ. Registered in England: 615539.
EC 2020-75 10/20
Share this article