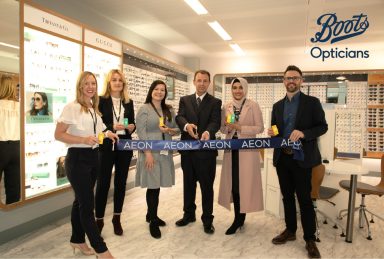 AEON eye drops now available in Boots Opticians across the UK
Posted on 31/05/2022
May 19, 2022 – Worthing-based Rayner, a global innovator in cataract and refractive surgery solutions and the only UK manufacturer of intraocular lenses (IOLs), announced today that AEON, its surgery-focused premium eye drops are now available in one of the leading UK optician chains, Boots Opticians, with more than 500 branches across the UK.
In the UK, there are over 340,000 new eye-surgery patients every year1 of which over 75% will suffer from dry eye disease2: a condition that alters the thickness and quality of the tear film, shifting the refractive power of the cornea by up to 2 dioptres and seriously affecting visual quality.3,4 AEON eye drops are the only eye drops designed for relief of dry eye both before and after eye surgery.
Two AEON products are now available to purchase from Boots Opticians:
AEON Protect Plus is designed to improve patient outcomes before and after eye surgery. These eye drops offer longer lasting lubrication with 0.3% cross-linked sodium hyaluronate, for the relief of moderate to severe dry eye.
AEON Protect is designed to provide relief for mild to moderate dry eye. These eye drops contain 0.3% sodium hyaluronate with PEG 400 and are a cost-effective alternative to AEON Protect Plus.
Rayner CEO, Tim Clover, said of the announcement "With AEON now being available on the high street shelves of a chain as big as Boots Opticians, this significantly increases our ability to help patients achieve their best possible outcomes from eye surgery."
Commenting on the launch, Boots Opticians' Zyra Ahmed, Lenses and Accessories Buyer said: "We are thrilled that AEON eye drops are now available in our stores nationwide. AEON offers our customers who are referred for eye surgery a solution to relieve dry eye, as well as a great option for those with general dry eye."
Visit your local Boots Opticians to get your AEON eye drops today.
To learn more about AEON eye drops, visit www.aeoneyedrops.com
For media enquiries, please contact Ko Lane (Rayner Global Product Manager): kolane@rayner.com
About Rayner
Since the implantation of the first Rayner intraocular lens by Sir Harold Ridley 1949, Rayner has continuously pioneered intraocular lens (IOL) design with a goal to improve vision and restore sight worldwide. Today, Rayner's mission remains to deliver innovative and clinically superior ophthalmic products that respond to the expectations of our global customers to improve the sight and quality of life of their patients.
Headquartered in Worthing, United Kingdom, Rayner markets its medical devices, pharmaceuticals and digital solutions worldwide in over 80 countries through a network of distributors and includes direct sales teams in the United Kingdom, USA, India, Poland, Australia, Germany, Austria, Switzerland, France, Italy, Spain and Portugal.
About Boots Opticians
Whether you need an eye test or want to pick up some new glasses or contact lenses, Boots Opticians is the place to go. With more than 500 branches across the UK, you're sure to find one close to you. We pride ourselves on our premium level of service and clinical care standards, so when you visit Boots Opticians, you'll know that you're in safe hands.
EC 2022-141
References:
650,000 estimated cataract procedures in UK in 2021: Market Scope, 2021 IOL Market Report. Over 15,000 laser surgery procedures https://www.optegra.com/eye-health-blog/laser-eyesurgery/facts-and-figures-about-laser-eye-surgery/
EuroTimes Supplement February 2019: 'Diagnosing and Treating Ocular Surface Disease in Surgical Patients'.
EuroTimes Supplement February 2018: 'Ocular Surface Disease'.
Tu E.Cornea Day, ASCRS 2011.
Share this article