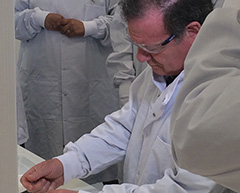 High media coverage for Ridley Innovation Centre opening event
Posted on 18/04/2016
If ever there were a year for Rayner to be earning solid media coverage, 2016 is certainly off to a flying start. And the company has a lot to talk about.
On this occasion, it was the Grand Opening of The Ridley Innovation Centre – a brand new, state of the art dedicated intraocular lens production facility – which was making headlines.
On Friday 8th April, Worthing presented a glorious Spring morning, and an enthusiastic group of surgeons, industry media and company stakeholders gathered in the reception of The Ridley Innovation Centre for what was to be a high-spirited, high energy event. Rayner CEO, Tim Clover, welcomed guests and delivered an entertaining speech about the company's origins as well as our plans for a bright future.
Guests were then involved in the following activities:
An interactive manufacturing facility tour, where guests were
also able to make their very own intraocular lens (IOL)

Placing an IOL into a demo eye in the new Rayner training suite

 

Rayner transforms: Celebrated online, as well as offline.
Throughout the opening event, interviews, photographers and camera crew documented the important – and symbolic – occasion, which makes up part of a wider narrative around the major transformation Rayner is currently undergoing.
Coverage included the following major European Industry publications:
Not to mention the flurry of Twitter activity. If people weren't aware that things were changing at Rayner, they will be now!
Rayner will now focus its efforts on getting ready to launch it's highly anticipated, fully preloaded, small incision injector. This exciting new product is due to be launched in Q3, 2016.
To keep up to date with the news and transformation at Rayner:
Share this article