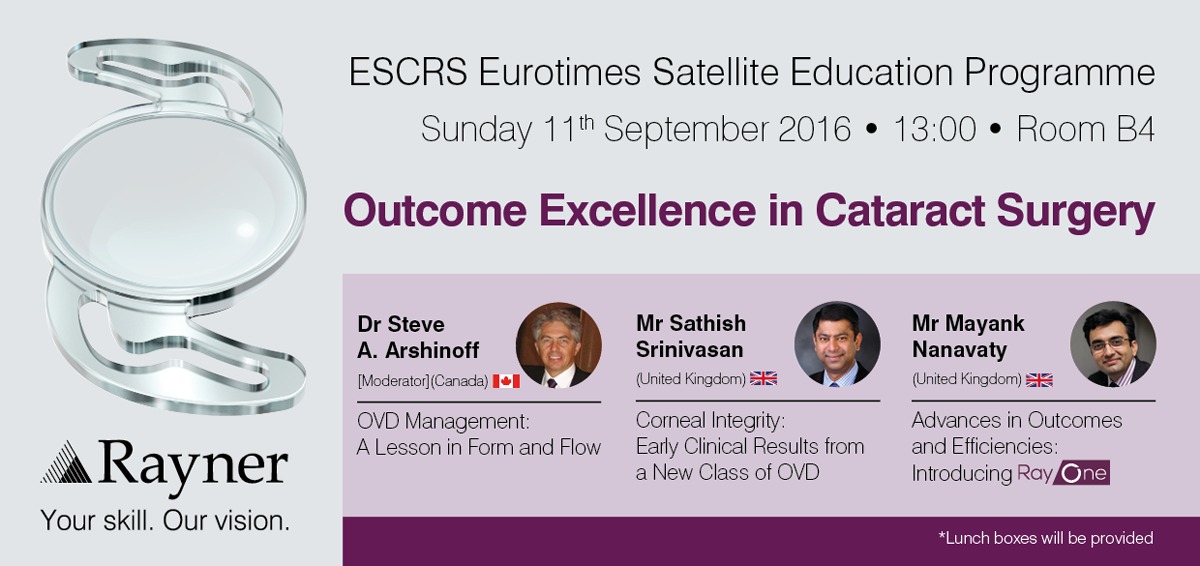 Outcome Excellence in Cataract Surgery. A Satellite Symposium Sponsored by Rayner at the 2016 ESCRS
Posted on 3/08/2016
Committed to education
Dr Steve Arshinoff, Mr Sathish Srinivasan and Mr Manyank Nanavaty complete the panel of speakers for the Rayner-sponsored satellite symposium 'Outcome Excellence in Cataract Surgery' at the XXXIV ESCRS in Copenhagen, 10-14 September.
This compelling topic will be explored through the following presentations:
Dr Steve Arshinoff (Moderator)(Canada)
OVD Management: A Lesson in Form and Flow
Mr Sathish Srinivasan (United Kingdom)
Corneal Integrity: Early Clinical Results from a New Class of OVD
Mr Mayank Nanavaty (United Kingdom)
Advances in Outcomes and Efficiencies: Introducing RayOne
Followed by a Q&A session, allowing speakers to expand on specific pearls of wisdom at the audience's request.
The Rayner Satellite Symposium will take place on Sunday 11th September, Room B4.
Surgeons can register their interest here.
Rayner's 2015 ESCRS Symposium 'Refractive Surprise, the Big Taboo' proved to be a high-interest topic, reflected by the fact that the venue reached it's maximum capacity of 300 surgeons — before the symposium had even started.
We are confident that our 2016 Symposium topic – which will include the highly anticipated, newly launched RayOne fully preloaded IOL (due to be launched at the ESCRS ) – will also pique surgeons' interest and achieve the same level of success.
Click here for more information about Steve Arshinoff
Click here for more information about Sathish Srinivasan
Click here for more information about Mayank Nanavaty
Share this article