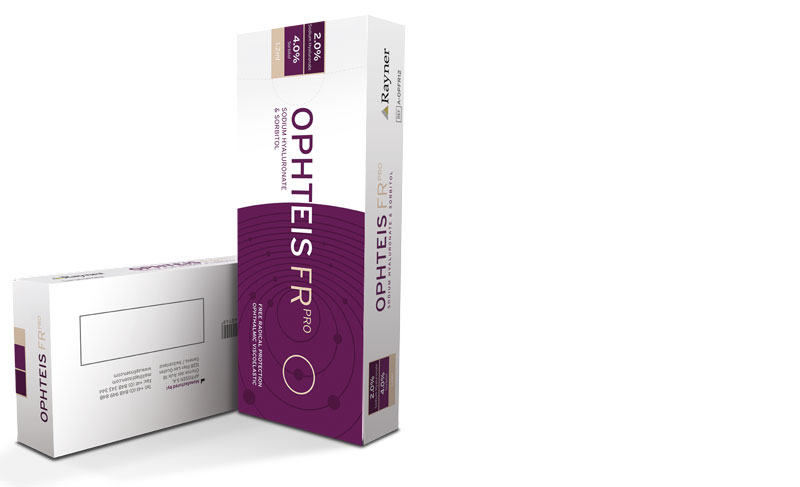 Radical thinking: Rayner defines the new standard in Ophthalmic Visco-Surgical Devices (OVD) with OphteisFR Pro
Posted on 7/03/2016
On March 7th 2016, Rayner launches a new OVD – Ophteis FR Pro. Ophteis FR Pro with sorbitol is a revolution in OVDs, protecting the corneal endothelium from free radical energy caused by phaco emulsification.
The next step in the evolution of cataract surgery?
Since Sir Harold Ridley's first IOL implant in 1949, there have been several innovative leaps forward; such as the invention of foldable lenses, development of phaco techniques and use of OVDs to alleviate the risk of anterior chamber collapse and tissue damage by surgical instruments.
However, as technology evolves, so must the surgical environment. Modern phaco techniques stimulate the creation of free radicals, which can attack the endothelium – and make it more likely that a patient will suffer complications. OVDs need to evolve to meet the changing needs of the ophthalmic surgeon and demands of their patients.
Introducing Ophteis FR Pro with sorbitol – a Free Radical Scavenging (FRS) innovation
Rayner's Ophteis FR Pro is a uniquely bio-engineered OVD containing sorbitol, added at 4 % concentration to the 2 % NaHA. Sorbitol is a highly stable antioxidant molecule, found naturally in the aqueous humour. When combined in Ophteis FR Pro, sorbitol has a neutralising or "scavenging" effect on free radicals, enabling a new level of corneal endothelial protection from phaco induced trauma.
When compared to market leading OVDs, studies show that the use of Rayner's Ophteis FR Pro reduces cell death by an average of 27.8 %.1
Aside from its unique free radical scavenging qualities, Ophteis FR Pro does everything a surgeon demands from an OVD and more. The addition of sorbitol enables the OVD to perform as a visco-cohesive, providing excellent all-round performance at every stage of surgery. It is stable in the anterior chamber during phaco, providing superior chamber maintenance and is easy to remove at the end of surgery. What's more, it doesn't require refrigeration, so it's ready to go when you are.
1 University of Brighton, UK, in vitro chemical and phaco studies, data to be published.
[ENDS]
About Rayner
Rayner design and manufacture intraocular lenses and proprietary injection devices for use in cataract surgery. As the first manufacturer of the IOL, we have been working with surgeons for longer than anyone and exist to enable surgeons to focus on what matters: improving patient's sight. We remain at the forefront of innovation, developing clinically superior ophthalmic tools that aid and streamline the surgical process; with the ultimate objective of improving sight and quality of life.
The launch of Ophteis FR Pro will be a major milestone in what is set to be a transformative time for Rayner, as they transition to becoming a company exclusively focused on IOLs and cataract surgery. The disposal of their retail business and move to new purpose built headquarters and state-of-the art three million capacity lens manufacturing site in Worthing, UK, is testament to their commitment to quality and innovation for surgeons performing – patients undergoing – cataract surgery worldwide.
For questions or to schedule an interview with a Rayner representative, please contact Rayner: warwickstrand@rayner.com
Not all Rayner products are approved for sale in every country. Please contact your local Rayner distributor for details of which products are available in your area.
©2016 Rayner Intraocular Lenses Limited. OPHTEIS is a registered trade mark of Rayner.
EC 2016-09 02/16
Share this article