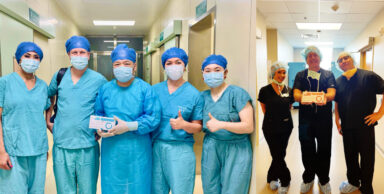 Rayner Achieves Milestone Implantations in Landmark Clinical Trials in China and the USA
Posted on 11/08/2023
Worthing, United Kingdom – August 11, 2023: Rayner, a global ophthalmic leader in Devices, Drugs and Digital, is pleased to announce the successful completion of the first implantations in two pivotal market access studies in China and the USA.
In April, Rayner received approval from the People's Republic of China's Ministry of Science and Technology (MOST) for the clinical trial involving Rayner's trifocal intraocular lenses (IOLs). The Human Genetic Resource Administration of China (HGRAC) granted the necessary approval, and the first implantations for this study were carried out in June at The Peking University Hospital by Prof Xuemin Li. The trial, a prospective, multicentre, randomised, parallel-controlled, evaluator-masked, non-inferiority clinical trial, aims to evaluate the effectiveness and safety of Rayner's RayOne Trifocal IOL for visual correction of aphakia patients. The completion of this study will facilitate market access for Rayner's RayOne Trifocal technology in China.
Prof Xuemin Li shared the following statement:
"I was incredibly excited to have the opportunity to implant the RayOne Trifocal lens in the first Chinese patient as part of the NMPA registration clinical trial. It fills me with great joy to offer this amazing solution to my patients and be part of introducing this advanced technology to the Chinese market."
Additionally, Rayner's RayOne EMV Toric intraocular lens (IOL) received Investigational Device Exemption (IDE) approval from the U.S. Food and Drug Administration (FDA) in June. The first study implantation took place at Vance Thompson Vision in Sioux Falls, SD on August 10th. This clinical trial, a prospective, multicentre, randomised, masked, and active controlled study, aims to generate positive results that will support a Pre-Market Approval (PMA) submission to the FDA.
Dr Thompson commented:
"We have had a great experience with the RayOne EMV lens, and as an IDE clinical trial site, I am thrilled to offer this new toric version to my patients and contribute to introducing this remarkable technology to the US market."
Expressing his enthusiasm about these significant milestones, Tim Clover, Rayner CEO, stated:
"The USA and China hold immense importance for us, and the accomplishments in these clinical trials mark significant progress as we expand our presence in these key markets and provide surgeons and their patients access to our most advanced technology IOLs."
About Rayner:
Since the implantation of the first Rayner intraocular lens by Sir Harold Ridley 1949, Rayner has been driven to improve vision and restore sight worldwide. Today, Rayner's mission remains to deliver innovative and clinically superior ophthalmic products that respond to the expectations of our global customers to improve the sight and quality of life of their patients.
Headquartered in Worthing, United Kingdom, Rayner markets its medical devices, pharmaceuticals, and digital solutions worldwide in over 80 countries through a network of distributors and includes direct sales teams in the United Kingdom, USA, Canada, India, Poland, Australia, Germany, Austria, Switzerland, France, Italy, Spain, Brazil, and Portugal.
Not all Rayner products are approved for sale in every country. Please contact your local Rayner distributor for details of which products are available in your area.
Rayner, 10 Dominion Way, Worthing, West Sussex, BN14 8AQ. Registered in England: 615539.
©2023 Rayner Group, all rights reserved. Rayner and RayOne are proprietary marks of Rayner. All other trademarks are property of their respective owners.
Share this article