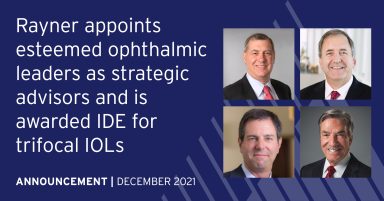 Rayner appoints esteemed ophthalmic leaders as strategic advisors and is awarded IDE for trifocal IOLs
Posted on 22/12/2021
DECEMBER 22, 2021 – Worthing, United Kingdom. Rayner, a leading UK-based ophthalmic company focused on optimising visual outcomes for surgeons and their patients, is delighted to announce the appointment of Drs Eric Donnenfeld, Kerry Solomon, Vance Thompson, and Mr Jim Mazzo as strategic advisors to the business, with a specific focus on supporting the expansion of Rayner's presence in the US.
Following on from the recent acquisition of Omidria™ from Omeros Corporation*, Rayner is proud to also announce that the U.S. Food and Drug Administration (FDA) has approved their request to conduct a clinical study on their premium RayOne Trifocal and RayOne Trifocal Toric intraocular lenses (IOLs). This Investigational Device Exemption (IDE) approval enables Rayner to move forward with a prospective, multicentre, randomised, masked and active controlled study. If successful, the results of the study are intended to allow a Pre-Market Approval (PMA) submission to the FDA.
Rayner's CEO, Tim Clover, commented on this news, "Driving significant growth in the US is one of our strategic corporate objectives and the IDE not only shows our commitment to North America but also the exciting opportunities that lie ahead for our customers. With the support of our newly appointed advisors, we look forward to bringing more of our Rayner portfolio to the US market."
On his appointment as a strategic advisor and news of IDE approval, Dr Vance Thompson commented, "The European clinical results for RayOne Trifocal are excellent and as an IDE clinical trial site, I am excited to offer this solution to my patients who desire complete spectacle independence. I have long admired Rayner's pioneering approach to lens technology as well as its commercial agility, and I look forward to joining a small group of respected peers to support their growth journey over the coming years."
END
About Rayner
Since the implantation of the first Rayner intraocular lens by Sir Harold Ridley 1949, Rayner has continuously pioneered intraocular lens (IOL) design with a goal to improve vision and restore sight worldwide. Today, Rayner's mission remains to deliver innovative and clinically superior ophthalmic products that respond to the expectations of our global customers to improve the sight and quality of life of their patients.
Headquartered in Worthing, United Kingdom, Rayner markets its IOL, OVD, dry eye and digital health portfolio worldwide in over 80 countries through a network of distributors, with direct sales teams in the United Kingdom, USA, Germany, Austria, Switzerland, Italy, India, Spain and Portugal.
To support Rayner's international growth, CVC Capital Partners VIII acquired a majority interest in the company in June 2021. Established in 1981 and with international reach and experience of the healthcare sector, CVC is a world leader in private equity and credit with $125 billion of assets under management and $165 billion of funds committed.
For further information and media enquiries, please contact Rayner: marketingteam@rayner.com
*Omidria™ supports the maintenance of mydriasis (a dilated pupil) during surgery, protection of the eye from cystoid macular oedema and the reduction of post-operative pain without the use of opioids.
EC 2021-91 12/21
Share this article