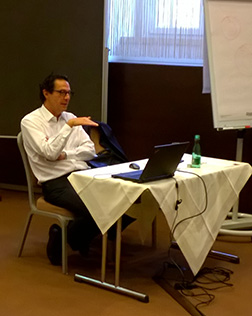 Rayner educates the next generation of surgeons at the recent premium IOL Wetlab event
Posted on 28/10/2015
Professor Oliver Findl, Dr Nino Hirnschall and Professor Michael Amon hosted Rayner's recent DFP-certified Premium IOL Wetlab event in Vienna, Austria in September 2015.
The group of enthusiastic junior surgeons were exposed to a full Toric and Supplementary (Sulcoflex) program which consisted of the following key topics:
• Introduction to astigmatism correction
• The history of astigmatism correction
• Treatment options to correct astigmatism (LRI, OCCI, Toric IOLs)
• Pre-op measurements and calculations
• Patient selection
• Biometry
• Raytrace Premium IOL Calculator
• Axis marking
• Videos
Surgeons also practised their hands-on skills for post-op corrections and also implanted toric and Sulcoflex IOLs into silicone eyes.
Following on from the success of the 2014 Toric Wetlab hosted by Professor Tetz, Rayner decided to expand the programme for 2015 to include Sulcoflex IOLs which attendees have said was a welcomed addition.
Feedback about the 2015 Wetlab has been extremely positive, with many surgeons commenting that the event was informative and highly engaging.
Professor Michael Amon
The Rayner Wetlab in session
Participants listen to Professor Amon
© Rayner Intraocular Lenses Limited
Share this article