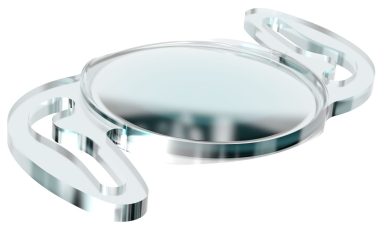 Rayner Receives Third FDA Approval in RayOne IOL Portfolio
Posted on 17/05/2021
New York, USA, May 17, 2021 – RayOne Spheric, a fully-preloaded monofocal IOL, has received FDA approval. This achievement marks Rayner's third FDA approval in under three years within its expanding RayOne preloaded IOL portfolio.
RayOne Spheric joins RayOne Aspheric (FDA approved December 2018) and RayOne EMV, a new non-diffractive IOL solution which achieved FDA approval on March 26, 2021.
RayOne Spheric is positioned as a cost-effective monofocal IOL solution and benefits from the same fully preloaded injector as its siblings. The RayOne injector requires only two steps to prepare (load OVD and close the wings) and is compatible with sub 2.2 mm incisions. All three FDA-approved RayOne IOLs are based upon the same hydrophilic acrylic platform, which offers superb stability (0.08 mm mean decentration at 3-6 months1), low PCO (1.7% at 24 months2), and high-quality vision with a high Abbe value (563) and low refractive index (1.463).
What does this mean for surgeons?
RayOne Spheric expands the RayOne portfolio in the USA as an economical option relative to RayOne Aspheric and RayOne EMV, and is a cost-effective solution for patients who want a modern, high-quality monofocal IOL.
On receiving FDA approval for RayOne Spheric, Tim Clover, Rayner CEO said: "Rayner strives to offer superior patient outcomes for all patients, and as a cost-effective solution, RayOne Spheric ensures that all US surgeons and patients can access the highest quality IOLs. This third FDA approval in less than three years supports our continued efforts to grow our available portfolio in the United States, which is a key strategic focus for Rayner."
Patient outcomes for all RayOne IOLs can be tracked using RayPRO, a free contactless telehealth solution that collects three years' worth of patient reported outcomes after cataract or refractive surgery.
Please contact USMarketing@rayner.com for more information on Rayner's USA IOL portfolio.
1Bhogal-Bhamra GK et al. Journal of Refractive Surgery. 2019;35(1):48-53
2Mathew RG and Coombes AGA. Ophthalmic Surg Lasers Imaging. 2010 Nov-Dec; 41(6):651-5
3Rayner. Data on File. White paper
[ENDS]
Since the implantation of the first Rayner intraocular lens by Sir Harold Ridley 1949, Rayner has continuously pioneered intraocular lens (IOL) design with a goal to improve vision and restore sight worldwide. With over 70 years of continuous growth and experience, Rayner remains at the forefront of innovation. Rayner is focused on providing the best visual outcomes for clinicians and patients and driven by science to improve performance and safety. In 2020, Rayner won the Queen's Award for Enterprise (Innovation) for its RayOne preloaded injector.
Headquartered in Worthing, United Kingdom, Rayner provides IOLs, ophthalmic viscoelastic devices (OVDs) and dry eye therapies worldwide in over 80 countries through a network of distributors as well as direct sales teams in the United Kingdom, USA, Canada, Germany, Austria, Italy, Spain, Portugal and Russia.
Not all Rayner products are approved for sale in every country. Please contact your local Rayner representative for details of which products are available in your area.
©2021 Rayner Intraocular Lenses Limited. Rayner, RayOne, RayOne EMV and RayPRO are proprietary marks of Rayner. EC 2021-44 05-21
Share this article