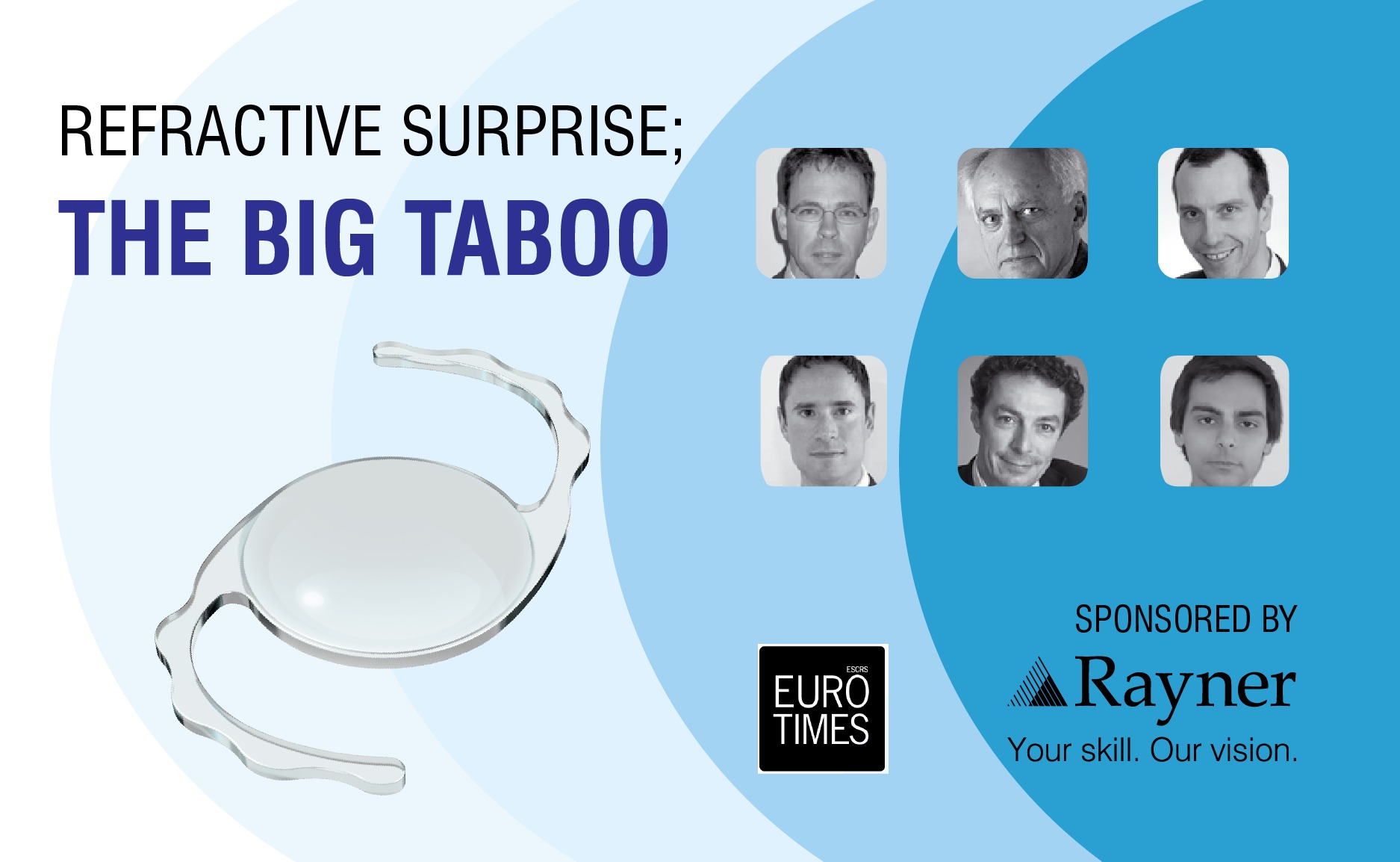 Refractive Surprise; The Big Taboo: Education Supplement
Posted on 17/11/2015
Highlights and valuable insights from Professor Rudy Nuijts and Peers now available for download
Professor Rudy Nuijts, Professor Mats Lundstrӧm, Professor James Wolffsohn, Professor Michael Amon, Mr Allon Barsam and Dr Tiago Ferreira made up the panel of presenters for the Symposium 'Refractive Surprise; The Big Taboo' — an education program sponsored by Rayner (in conjunction with Eurotimes) at the XXXIII Congress of ESCRS, 5-8 September in Barcelona.
Rayner is now pleased to announce that highlights from the symposium are now available in a supplement format.
Within the Supplement, each of these esteemed experts discuss the following key topics related to the taboo topic of refractive surprise:
Mats Lundstrӧm MD, PhD: Despite Advances, 'Refractive Surprise' Still Lurks. EUREQUO analysis identifies risk factors for refractive outcome errors.
James Wolffsohn PhD: The Data-Reality Gap. VA predictions still complicated by lens position, subjective refraction.
Allon Barsam MA, FRCOphth: Getting to 20/Happy. Fixing even a small refractive surprise can greatly improve patients' lives.
Michael Amon MD: Multifocal Rescue. Sulcoflex corrects refractive surprise after YAG without vitreous loss.
Tiago Bravo Ferreira MD: Keratoconus Rescue. Sulcoflex improves UCDVA from 20/400 to 20/50 in stable cornea.
The session was introduced and moderated by Prof. Rudy Nuijts, who highlighted that refractive surprise is a serious challenge in cataract and refractive surgery and requires further thought for management.
The supplement is useful not only for surgeons who were unable to attend the event but also serves as a helpful tool to re-cap the content for attending surgeons.
| | |
| --- | --- |
| To download a copy of the supplement to read valuable insights into this important topic please click here. | |
| To watch the post-symposium surgeon interviews please click here: | |
| For more information on Sulcoflexplease click here | |
Sulcoflexis a registered trademark of Rayner Intraocular Lenses Limited.
© 2015 Rayner Intraocular Lenses Limited 
Share this article