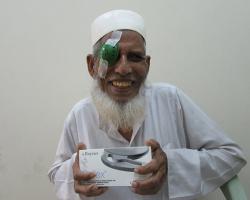 Restoring sight to the poor and marginalised in Bangladesh: 2016 Report.
Posted on 15/02/2017
In 2016, 773 Rayner IOLs were used to restore the sight of some of Bangladesh's poorest and most isolated people, according to the recent Annual IMPACT partner report. There were no complications found during post-operative follow-up visits of patients with Rayner IOLs, it was also reported.


For over 15 years, Rayner has enjoyed a special relationship with IMPACT; supporting their cataract surgery program aimed at the rural and marginalised communities of Bangladesh. The service is offered through three hospitals:
1. IMPACT Jibon Tari Floating Hospital
2. IMPACT Masudul Haque Memorial Community Health Centre, Chuadanga and
3. IMPACT Jibon Mela Health Centre, Meherpure
The Jibon Tari Floating Hospital is one of IMPACT's particularly ingenious initiatives. For those living in the rural areas of Bangladesh, the thousands of kilometres of waterways make access to health care extremely difficult. By providing a mobile hospital which can navigate its way around the 700 rivers of Bangladesh, IMPACT have substantially reduced the access problem. Jibon Tari Floating Hospital provides the clinical and surgical treatment for free or a token fee.

As part of their partner report, IMPACT share some personal accounts from recipients of the donated Rayner lenses:
Story of Mrs Morzina Khatun
Morzina Khatun was living a happy life along with her two sons and two daughters in Shampur village, Meherpur district. After the death of her husband, her sons were pulling rickshaw all day and earning a little money. However, they completely changed after their matrimony and stopped taking care of their mother.
When Morzina realised she could not see at a near distance, she pleaded with her sons on several occasions to take her to the eye consultant. They did not listen to her, rather they scolded their mother for her fatal disease. The main obstacle for Morzina was that she couldn't do anything without the assistance of others. Her younger daughter was her only helper.
One day Morzina was informed by a neighbour that the IMPACT Jibon Mela (IJM) Health Center provided eye care services at a very nominal cost. Within 24 hours of hearing about IJM, she visited the Centre with her daughter.
The doctors accepted her as a cataract patient and at last she had an operation. Her eyes are now healthy and her vision has been restored. Morzina was so amazed at the outcome of the operation that she wasn't even aware of the tears sliding down her cheeks. With a sobbing voice, she said: "the Jibon Mela has given me a new life. May God bless this organisation."

Story of Mrs Parvina Khatun
Mrs. Parvina Khatun is a 47 year-old widow from Jhenaidah. She and her daughter are farmers, and together they work a small plot of land growing rice and vegetables. The family is very poor, but life became even more challenging when Parvina began to go blind.
She was unable to do the most basic things on her own, such as cooking or using the washroom. Robbed of her independence, Parvina needed constant care. Her daughter often stayed home from work to look after her, because it was dangerous to leave her mother alone; she would frequently burn herself just from cooking rice.
For the last few years Parvina was miserable about her blindness. She wanted to retreat into isolation so that she would not be a burden. Her daughter insisted on looking after Parvina and could not think about marriage despite being 22 years of age. She wanted to take her mother to a hospital to find a cure for her blindness, but they had no money. Treatment seemed impossible.
One day, a neighbour who knew about the cataract surgical treatment service of IMPACT suggested they visit IMPACT Chuadanga Hospital where they could receive a free eye examination as well as cataract surgery. When Parvina heard about the camp, she was hesitant as she was frightened of surgery and injections. Her daughter convinced her to go, if only to be examined. Pavina reluctantly agreed.
One morning, Parvina was taken to the hospital by her daughter. There, an ophthalmologist explained that she had bilateral cataracts which could be easily fixed with an operation lasting no longer than15 minutes. Given hope for the future, she followed the doctor's advice and agreed to surgery. She had cataract surgery on her right eye that afternoon.
As the bandages were being removed, Parvina brightened: her vision was restored! Now able to see, Parvina was excited to do all the things she had missed during her years spent in darkness. She couldn't wait to walk by herself and visit the neighbours. She was very grateful for her new life, not just for herself but for her daughter. As they left the camp, Parvina and her daughter went back home with joy, saying again and again: "Thank you so much! Now I can work again and am ablet o think about marriage for my only daughter".

As part of our arrangement with IMPACT, Rayner aims to donate 100 premium quality monofocal lenses each month to help support the important work undertaken by IMPACT.
To make a donation to IMPACT please click here: http://www.impact.org.uk/donate/

To learn more about the partnership between Rayner and IMPACT please click here.
For other newsroom stories about Rayner's charity work please click here.
Share this article